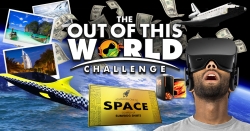 Gaylord, MI, November 27, 2015 --(
PR.com
)-- SunFrog recently announced its latest program for rewarding affiliates that experience exceptional sales. Incentives were carefully chosen to appeal to SunFrog's diverse and worldly affiliate personalities. From the "Edge of the World" vacation packages, to an otherworldly trip to space, the incentives were designed to be attainable for the assertive power seller. "Our affiliates are experts at marketing. During this holiday season we wanted to not only reward them with incentives that would stand out, but also acknowledge we, at SunFrog, believe in their potential," says Josh Kent (SunFrog CEO and Owner).
Built to last, Sunfrog is the original evergreen, DTG based, sales and fulfillment platform. Affiliate sales are the original building block on which the company found initial success, helping it to become the premier, online sales platform for T-shirts.
The incentive program runs through Dec. 15th.
"I'd be thrilled to award an affiliate with a trip a space.... I'd personally attend the launch to see them off," says Kent.
blog.sunfrogshirts.com/out-of-this-world-challenge/