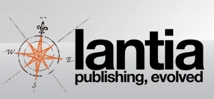 Los Angeles, CA, December 01, 2015 --(
PR.com
)-- Lantia, a leading provider of innovative publishing solutions, was chosen as a 2015 Red Herring Europe winner. Lantia's solutions include the Pentian crowdfunding platform, the world's first crowdfunding solution that aligns authors and supporters in a mutually beneficial relationship, and Lantia's flagship publishing software that automates the publishing processes for the world's most efficient publishers. With operations throughout Europe and the US, Lantia has been rapidly expanding its operations to solve the needs of authors and publishers globally. The company, founded by the Parilla brothers, Enrique & Ivan Parilla, now has 35 employees and has seen revenues more than double in each of the last 3 years.
"I am thrilled to have our success with Lantia recognized by Red Herring, particularly in light of the explosive growth we have seen recently due to our leadership in providing crowdfunding solutions for authors in Europe and North America," said Lantia CEO Enrique Parilla. "We have seen the market for our innovative publishing solutions flourish during this period of rapid technology transition in the publishing industry, and look forward to the acceleration of our global expansion plans."
The 2015 Red Herring Europe award recognizes Europe's leading startups and the innovations and technologies these companies bring to their respective industries. The award identifies the most promising new business models in Europe. Red Herring's Top 100 lists are widely recognized as identifying important promising new companies and entrepreneurs. Red Herring's editors were among the first to recognize companies such as Facebook, Twitter, Google, Yahoo, Skype, Salesforce.com, YouTube, and eBay.
Red Herring's editorial staff award companies based upon criteria such as financial performance, technological innovation, management quality, overall business strategy and market penetration. This assessment was complemented by a review of the track records and standings of similar startups in the same verticals, allowing Red Herring to see past the "buzz" and make the list a valuable instrument of discovery and advocacy for the most promising new business models in Europe.
About Lantia
Lantia is the global leader in providing innovative publishing solutions for publishers and authors. The company delivers a sophisticated publishing platform for publishers to effectively manage the entire creation, publication and distribution process. Lantia also oversees the revolutionary crowdfunding platform, Pentian, where thousands of authors go to support their works. For more information, please visit the Lantia and Pentian websites.