Chin Chin, Las Vegas Fire and Rescue, Clark County Fire Department, and Santa to Once Again Raise Spirits and Funds for The Shade Tree Shelter
A Heart Warming Holiday Event for Kids of Nevada Shelter hosted by Chin Chin and the Las Vegas Fire and Rescue and Clark County Fire Department.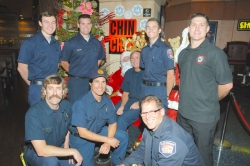 Las Vegas, NV, December 15, 2015 --(
PR.com
)-- Chin Chin Café & Sushi Bar at New York-New York Hotel & Casino has teamed up with Las Vegas Fire and Rescue and Clark County Fire Department to bring a little holiday joy to children and women who have been affected by domestic violence and homelessness in the Las Vegas area.
The coordinated effort is in support of Friends Of The Shade Tree, a local organization founded to financially support The Shade Tree Shelter in providing safe refuge to physically abused and homeless women and children. The Shade Tree is the largest shelter of its kind in Nevada and is the only 24-hour accessible shelter designed specifically to meet the needs of women and children in Southern Nevada.
On December 15th from 4:00 p.m. to 6:30 p.m., Chin Chin will be hosting be a holiday dinner for 70 children and their parent from the shelter. Las Vegas Fire and Rescue will be on hand, along with Santa Claus to bring some holiday spirit to the event. Chin Chin is donating over $5,000 worth of gifts for the Las Vegas Fire and Rescue team to distribute to the children of The Shade Tree Shelter.
A "snowflake drive" is also taking place at Chin Chin in which guests are offered a paper snowflake that they can personalize and place on the wall in exchange for a donation to Friends of The Shade Tree. Chin Chin will match all donations collected.
Last year's event was a massive success, with the joy on the children's' faces touching the hearts of many – some staff were even moved to tears. This year, we're looking bring even more happiness to these families with another special holiday event, and Chin Chin is thrilled to help make it happen once again.
About
Chin Chin Restaurants made its debut in Los Angeles in 1983, introducing Dim Sum and other Chinese favorites prepared fresh to order without adding MSG, and served in a contemporary setting with friendly and efficient service. Chin Chin revolutionized the Chinese food experience with its ever-­‐popular Chinese Chicken Salad and delectable Dim Sum and Then Sum feature. Chin Chin is known for its generous portions, reasonable prices, friendly service, take-­‐out, and delivery.
After 30 years, Chin Chin Restaurants remains one of the most popular Chinese restaurants in Los Angeles area with 4 locations throughout the city and one in New York New York Hotel & Casino in Las Vegas, Nevada.
Chin Chin Website: http://www.chinchin.com/
Friends of The Shade Tree: http://www.friendsoftheshadetree.net/our-­‐mission-­‐2/
New York-New York Hotel & Casino Website: http://www.nynyhotelcasino.com/
Media & Images: http://bit.ly/1PPxVFO
PR Contact
Calvin Htut | Mass Effect PR | calvin@masseffectpr.com | (416) 841-­‐1521
Contact
Mass Effect PR
Calvin Htut
416-841-1521
masseffectpr.com

Contact