MyTerm.com Offers Return of Premium Quotes
MyTerm.com, a national insurance brokerage representing the top term life insurance companies in North America, has added Return of Premium term life insurance quotes to its website.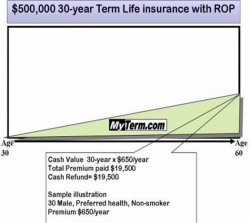 Cleveland, OH, December 21, 2007 --(
PR.com
)-- MyTerm.com is a national life insurance brokerage, located in Cleveland Ohio. They are pleased to announce the addition of Return of Premium life insurance (ROP). Term insurance with a Return of Premium rider, allows the policyholder to receive a 100% tax free refund of their premium once the term ends.
How Return of Premium works?
The concern most people have with term insurance is at the end of the term there is no cash value. This often causes people to think, "I'm throwing my money away, because it's unlikely that I am going to die during this term." Return of Premium (ROP) solves that problem.
Return of Premium is a rider that can be attached to a term life insurance policy. Term life insurance is just as the name implies, it insures you for a "term" of your life. The term could be 5, 10, 15, 20 or even 30-years.
Return of Premium Life Insurance operates this way: If you have a term policy, such as a 15, 20 or 30-year term with a ROP option, at the end of the term you will receive a 100% refund of the insurance premiums you paid during that term. Also, depending upon the policy, there is a build-up of cash value if you decide to terminate the policy early. This cash value increases the longer you hold the policy.
For example, a 30-year old male, with preferred health, can get a 30-year term ROP policy for about $650 per year. To determine the value of the policy at the end of 30-years, you multiply the years of coverage by the premium; in this case the amount is $19,500.
The cash value paid at the end of 30-years is tax free because the amount is equal to the premiums paid, so there is no capital gain. Premiums are merely being returned at the end of the term.
To access quotes or begin the application process go to MyTerm.com. For questions call 1-800-442-2220 and talk with one of their representatives.
###
Contact
myTerm.com
Vahe Karayan
440-866-3000
www.myterm.com

Contact