Author A.L. Smith is Pleased to Announce the Anticipated Release of Her Second Novel, Behind Closed Doors 2: Dana's Story (Second Edition)
January is National Human Trafficking Awareness Month. Human trafficking is often considered an international phenomenon and women from third world countries are typically the first images that come to mind. However, "familial human trafficking" is a more intimate crime due to the dynamics of the underlying relationships. Behind Closed Doors 2 is an intriguing urban fiction tale that captures the very essence of this sensitive issue. The story is perfectly timed.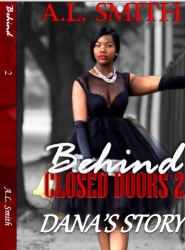 Dallas, TX, January 02, 2016 --(
PR.com
)-- East St Louis is a city on the verge of economic collapse. Often considered the heart of America's bottom because of its location downstream from the Mississippi River, it is also one of the most impoverished small cities in the country. In light of the poor infrastructure, rampant crime, and poverty, East St Louis is the epitome of a third world country.
"Behind Closed Doors 2" is the riveting tale of one little girl's struggle to overcome circumstances beyond her control. Born and raised on the ruthless streets of East St Louis, Dana Toussaint was accustomed to a life of privilege; thanks to her father, a Haitian-born immigrant and notorious drug lord. Dana's mother; a materialistic southern belle from South Louisiana, is consumed by the good life, as memories of her upbringing in an East New Orleans housing project become a distant memory.
In spite of the similarities between the Haitian and Louisiana Creole cultures, the marriage unravels and the unthinkable occurs when Dana's father abruptly abandons the family. At the age of 12, Dana becomes the ultimate sacrifice and her mother brokers the deal.
Contact
Breaking The Line Books
A'mera Freeman
972-278-3092
www.alsmithbooks.com

Contact