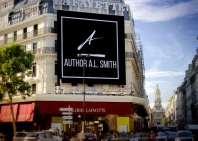 ALS Creations, LLC is a multi-faceted company that was created to facilitate the professional and artistic passions of its founder, Dr. A.L. Smith.
"In a perfect world, drug dealers and drug addicts wouldn't exist. Women wouldn't sell their bodies and every child would have both parents. Kids would find value in education as opposed to tennis shoes, the neighborhood kingpin would NOT be role a model and ghettos would become obsolete in the absence of poverty. The love of money is the root to all evil, but poverty and wealth are its greatest companion... " Dr. A.L. Smith
Dr. Smith is a practicing Certified Registered Nurse Anesthetist, critically acclaimed author and award-winning independent filmmaker. In 2010, she traveled to Haiti in the aftermath of the devastating earthquake and provided anesthesia care to a countless number of victims, most of whom were children. The experience would heavily influence her second novel Behind Closed Doors 2: Dana's Story, which was included on Kirkus Reviews' top 16 Indy Books Worth Discovering for 2017. The short-film adaptation of the novel, "Dana's Story" has received numerous festival awards to include, Best Narrative Short (Las Vegas Black Film Festival and River City Festival in San Antonio, Tx.).