Artificial Intelligence in Politics - AskTheCandidates2008.com
Zabaware launches www.askthecandidates2008.com - a political site allowing visitors to interact with artificially intelligent bots representing the 2008 US presidential candidates.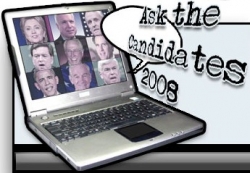 Erie, PA, December 21, 2007 --(
PR.com
)-- Zabaware has launched the site
www.askthecandidates2008.com
- a political site allowing visitors to pose questions to any of the 2008 presidential candidates and get an immediate response based on a real quote by the candidate.
Zabaware has loaded hundreds of quotes from each of the candidates into an artificially intelligent (AI) brain. When the visitor asks a question, the AI bot version of each candidate will attempt to answer using a real quote from his or her human counterpart. In addition visitors are able to rate each candidate based on the quality of the response and see how the candidates rank up against each other in this system.
The technology running this site is based on award winning artificial intelligence software created by Zabaware, Inc. Zabaware is an Erie, Pennsylvania based company that specializes in artificial intelligence technology. Zabaware's technology won the 2007 Loebner Competition in AI as the "most human" software. The company's mission "giving your computer the power of thought" once considered a futuristic pipe dream is becoming a reality.
It is one thing to talk to your computer; it is quite another to have a conversation where you are exchanging information and the computer learns and utilizes the information in the future. Zabaware's Ultra Hal technology and its associated brain are currently doing just that. The software can give your computer a personality using AI technology, speech recognition technology, and real-time animation. It can be used as an entertainment program, a companion, or an office assistant. It learns from conversations and evolves and improves the more it talks with a person. In addition to chat it can perform useful functions such as remembering and reminding of appointments, keeping an address book, dialing phone numbers, launching program, and more.
Zabaware's Ultra Hal software runs on most standard Windows computers. The artificial intelligence software is available for download at
www.zabaware.com
as a free 30-day trial and sells for $29.95.
###
Contact
Zabaware, Inc.
Robert Medeksza
814-835-2351
www.zabaware.com

Contact