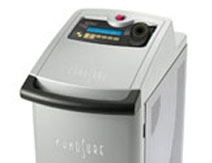 Summit, NJ, January 05, 2016 --(
PR.com
)-- Ethos Spa, Skin and Laser Center has officially acquired the 2015 Cynosure Elite+ aesthetic workstation to treat redness, wrinkles, facial and leg veins and removal of unwanted hair. The machine uses clinically proven wavelengths, the 755 nm Alexandrite and 1064 nm Nd:YAG lasers, which allows aesthetic laser treatments with unsurpassed efficacy and client comfort.
"We always strive to deliver the best possible experience to our clients," stated Dr. Hardik Soni, MD, the company's medical director and owner. The Elite+ will allow Ethos to treat patients with all skin types from light – dark that may not have had results with previous technology.
The Elite+ workstation will be used for many different treatments. The high-powered 755 nm Alexandrite wavelength is highly absorbed by melanin. It has proven long-term results for pigmented lesion removal and hair reduction, permanently reducing hair by an average of 79% after just three treatments. The area of treatment can also be increased allowing a faster treatment time in our office. Larger areas can be treated in one third of the time given large treatment areas with this laser. A typical male chest or back takes just 5 minutes to treat while a full leg can be performed in under 15 minutes.
The 1064 nm Nd:YAG is the safest wavelength for permanent hair reduction on darker skin types and tanned skin. It's also the wavelength of choice for treating facial and leg veins which are the most prevalent in the body.
Patients wanting to remove unwanted hair, reduce redness, treat wrinkles or reduce facial and leg veins will all benefit from this new aesthetic workstation.
To learn more about Cynosure Elite+ and if it is the right treatment for you, visit http://www.MyEthosSpa.com.
About Ethos Spa, Skin and Laser Center: Ethos Spa, Skin and Laser Center is a practice comprised of physicians, physician assistants and skin care specialists. The practice is committed to providing the latest technology and skin care, and delivers services including
laser hair removal
, skin resurfacing, acupuncture, dermal fillers, chemical peels and injectables, such as Botox.