"Buckskin Brigades," a Western Fiction Story of how the Lewis & Clark Expedition Murder of a Native American Blackfoot Indian Chief Changes the Course of History
Galaxy Press brings in the New Year honoring Native Americans with a special promotion of L. Ron Hubbard's novel, "Buckskin Brigades" which New York Times stated in its review, "has reversed a time-honored formula and has given a thriller to which, at the end of every chapter or so, another paleface bites the dust."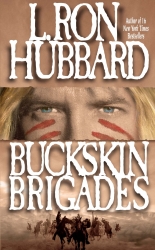 Hollywood, CA, January 07, 2016 --(
PR.com
)-- Galaxy Press is bringing in the New Year with a message of honor and integrity as told in the L. Ron Hubbard Western Fiction story, "Buckskin Brigades," a story of which the New York Times wrote, "Mr. Hubbard has reversed a time-honored formula and has given a thriller to which, at the end of every chapter or so, another paleface bites the dust ... [It has] an enthusiasm, even a freshness and sparkle, decidedly rare in this type of romance."
"Buckskin Brigades" is premised on the Lewis & Clark Expedition murder of a Native American Blackfeet Indian Chief in 1806 near what is now Helena, Montana, and its effect in changing the course of history.
The story is an adventure of the nascent American Northwest, and skillfully weaves together the history of the Lewis and Clark Expedition, its encounter with the Blackfeet Indians, the era's rapacious fur traders, and a figure of singular destiny, a white man named Michael Kirk but known to the Blackfeet as "Yellow Hair."
The impact of the story's message was so significant, it prompted a letter of recognition to L. Ron Hubbard from the Council Members of the Blackfeet Nation which read in part, "Like 'Yellow Hair' you have walked the Blackfeet path with honor and have showed our people in a true light. Never has our morals and ethics been presented with such clarity."
L. Ron Hubbard was born on March 13, 1911 in Tilden, Nebraska and soon thereafter moved to Helena, Montana, where a young Ron learned to read and write, ride horses and pan for gold. It was also in Helena that he was honored with the status of Blood Brother of the Blackfeet Indians. He later became one of America's most prolific writers of popular fiction producing over 18 million words of fiction with a writing career that spanned over five decades. During the 1930s and 40s he authored more than 250 short stories, novelettes and novels under his own name and any of his 15 pen names at a production rate of about 100,000 words a month. His published works from that era encompassed adventure, detective, science fiction, western and fantasy work and can be found at www.GalaxyPress.com.
"Buckskin Brigades" is available at www.Amazon.com, www.BN.com, and
www.GalaxyPress.com
.
Contact
Author Services, Inc.
Emily Jones
323-466-3310
www.galaxypress.com

Contact