Les Facettes Exhibits the Works of Maestro Enrico Cirio (14 to 30 January 2016)
From 14 to 30 January 2016, Les Facettes presents in Geneva the very first anthological exhibition dedicated to the genius and works of the great Italian goldsmith and designer Enrico Cirio. Approximately twenty unique works of art will be on show for the first museum exhibition dedicated to Enrico Cirio in Switzerland.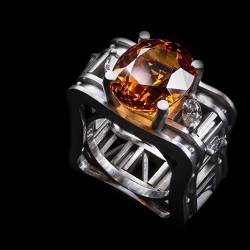 Geneva, Switzerland, January 08, 2016 --(
PR.com
)-- The works of Enrico Cirio are real miniature works of architecture in platinum and precious stones such as diamonds, in combination with more humble stones such as lava; rubies and cork; pink pearls with stucco and glass. This modern architectural style can be found in objects created in the last thirty years, inspired by the typical lines of Franck Gehry or hailing to the geometry of Santiago Calatrava. This is the kaleidoscopic world of Enrico Cirio, on show at Les Facettes, with creations ranging from the early 50's to the first years of the 21st century. Indira Gandhi and Elizabeth Taylor collected his creations, to name but two of his fans.
Vivien Yakopin, Business Development Manager of the latest multi-brand jeweller's on the rue du Rhône, said: "It's wonderful to have the works of Enrico Cirio at Les Facettes, almost ten years now since his demise. Les Facettes, in fact, is an exhibition centre dedicated to jewellery created by international and independent designers. The inventive and original works of Enrico Cirio fit in perfectly as we strive to offer a privileged place for those who consider jewellery to be inseparably tied to art and craftsmanship."
Enrico Cirio, who died in 2007, was a peerless goldsmith with the most sophisticated aesthetic touch. He was, first and foremost, inspired by nature and daily life. His works combine inventive and ironic creativity with a precision usually only found in engineering, as is easy to see in the exact measurements, the light, and harmony of form. He learnt the trade of the goldsmith in Turin under the watchful eyes of his father and grandfather. Then he studied aeronautical construction, chemistry and crystallography, leaving all ties with tradition behind as he launched himself into his own experimental formula, a style which would mark his work and be the key to his international success, until recently reserved for an elite group of connoisseurs, but today accessible to a wider audience. He was an expert in precious stones and experimented with such innovative cutting techniques that they opened up whole new horizons in terms of cut and luminosity. In his hands, precious stones became sculpture, real works of art.
"I continue to promote the conviction my husband had that there is a close relationship between art and handicraft production, and this is what led me to present a Maison Cirio catalogue raisonné in Switzerland," says Anna Novara Cirio, the widow of the great Turin goldsmith. Enrico Cirio showed his works in 2007 at the Royal Library of Turin, shortly before he died. The artist, who was originally from Biella in north-western Italy, was declared to be one of the "seven most prominent goldsmiths in the world" by La Stampa newspaper. He designed unique jewels, real one-offs, all made entirely by hand using new and unusual creative formulas and workshops, more than innovative, with a touch of genius (some of his creations took up to a thousand of hours of work to finish).
The exhibition is open to the public from 14 to 30 January 2016.
Opening times: every day from 10 am to 6:30 pm, except Saturdays (10 am - 5 pm). Closed on Sunday.
About Les Facettes:
Les Facettes is a multi-brand salon, which has the exclusive in the Geneva Canton for nine top jewellery brands. These creations celebrate modern woman in an elegant, chic way, without showing off. The designers of these brands, of a similar creative approach, are inspired by nature in the surrounding world. The salon strongly adheres to this artistic credo, and offers the artists a prestigious space to show their wares in Geneva.
For further information, please contact:
Les Facettes, rue du Rhône 40, 1204 Geneva (Switzerland)
Michele Caracciolo, Tel. +41 77 410 35 60, E-mail: mcb@agencecrp.ch
Photos HD : https://goo.gl/dLPjh0
Contact
Les Facettes
Michele Caracciolo
+41774103560
www.lesfacettes.com

Contact