LichtensteinRE Retained as Exclusive Broker to Sell Gut Rehabbed 6 Residential Unit Property in Yonkers, New York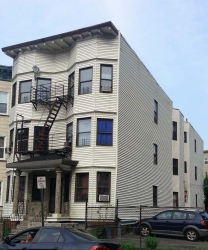 Yonkers, NY, January 15, 2016 --(
PR.com
)-- LichtensteinRE has been retained on an exclusive basis to sell a multifamily apartment building located at 56 Groshon Avenue Yonkers, Westchester, New York. The asking price is $1,175,000 but offers at all prices are invited.
The property, built in 1965, is a three story walk-up building containing six residential 3 1/2 or 5 bedroom apartments totaling 36 rooms plus a large basement with 7 storage spaces that can also be rented. The 5,958 square feet building sits on a 2,612 square foot lot, is currently undergoing complete gut rehab renovations from the roof down. The building can be either delivered rented or vacant at the time of the closing.
"This is a great opportunity for an investor who is looking for a clean and easy to manage, just renovated building. An additional benefit for the investor is that tenants will pay all utilities including heat as the property has 6 individual hot water heaters, 6 boilers and 7 electric meters. This makes for a profitable investment," said Andrew Lichtenstein, the exclusive seller's broker.
Once renovations are completed, all apartments will have new hardwood flooring, sheetrock walls and ceilings, lighting, kitchens, bathrooms, appliances and fixtures and the building will have a new roof. The new buyer will enjoy an estimated of 10.3% return of investment/Proforma cap rate and an annual net ordinary operating income of $121,070.
The building is located in a desirable Yonkers location between Vark Street and Herriot Street. It has beautiful views of the Hudson River and scenic bluffs of the NJ Palisades Park and Preserve. It is only blocks away from the city line and it has easy access to Manhattan through the Metro North railroad and the Westchester Bee-Line connecting to MTA buses and the #1 subway. It is close to the Cedar Place Elementary school, St. Mary School and St. Peter School.
Yonkers is a great destination for people looking for affordable living with easy access to the city. The city of Yonkers also offers a variety of new restaurants, shopping and art galleries by the Hudson River waterfront. Yonkers has successfully attracted millennials through a marketing campaign called "Generation Yonkers" where the city was promoted as the "next great urban frontier to live, work and play." On June, 2015 Yonkers was voted the "Hippest Town" in the Hudson Valley.
The property is being marketed exclusively by Andrew Lichtenstein, Inc. LichtensteinRE has been actively selling multifamily property for its clients in and around New York City.
About
LichtensteinRE
LichtensteinRE specializes in the exclusive sales of multifamily and mixed use commercial real estate properties in New York City's 5 boroughs. LichtensteinRE is a full service Commercial Real Estate Sales, Financing and Advisory Service Boutique based in New York City, the financial capital of the world. LichtensteinRE's proven experience, track record, financing ability, exclusive buyers and connections with tens of thousands of property owners assures their selling clients the best possible price when a landlord owner wants to sell their property.
DoctorMortgage, which is LichtensteinRE's financing division, has been a leader in commercial real estate mortgage debt financing since 1991. DoctorMortgage is able to negotiate and facilitate financing to deliver the best price, leverage and return on investment possible.
LichtensteinRE's greatest ability is creativity and problem solving. After selling the owner's property, LichtensteinRE has assisted successful sellers in locating replacement 1031 tax deferred exchanges and in some cases has more than doubled the seller's net income post-closing. To learn more contact Andrew Lichtenstein at (800) 242-9888 or
AL@LichtensteinRE.com
Contact
LichtensteinRE
Tatiana Lichtenstein
917-379-9592
lichtensteinre.com

Contact