Professional New Zealand Sports Technology Crosses Over to NCAA Soccer
Division One college teams like the Stanford Cardinal and Akron Zips making the most of professional grade wearable sports technology.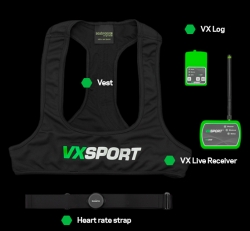 San Francisco, CA, January 19, 2016 --(
PR.com
)-- First time access to high-end pro-sport wearable technology was one of the contributing factors behind the success this season of top college soccer teams – 2015 College Cup winners Stanford Cardinal, and semi-finalist Akron Zips, were among the teams that made the most of this technology.
College teams were previously denied access to the professional quality found in elite performance tracking technology due to high costs. This all changed in 2014 when New Zealand elite wearable technology company
VX Sport
entered the US market at a third of the cost of existing systems.
"We've been surprised at how quickly colleges have embraced the wearable high performance technology for athletes, with more than 30 colleges having come on board in just over a year," says VX Sport's managing director Richard Snow, whose company previously only worked with professional sports teams such as the current world champion New Zealand Rugby Team.
"Teams include of course the 2015 College Cup winners, the Stanford Cardinal, as well as UCLA's women's soccer team and Maryland men's soccer – it's a huge leap forward for college teams to access this technology and we're seeing it in overall performance."
The technology works with a small electronic box, which is attached to the athlete's body or clothing using a special harness that – with the help of GPS, a heart rate monitor, accelerometers, magnetometers and digital radio – then provides coaches with real-time metrics and analysis to assist decision making.
As a result, coaches can monitor things like maximal and average speed, total distance, sprint details, body force, heart rate and intensity during games and practices, and then plan accordingly – even comparing it against data from a previous season or training session.
"Coaches can determine if the athlete has trained to capacity, or if he or she is pushing too hard. Are they achieving speed and heart rate reasonable to the task?
"If an athlete is training at too high of an intensity, or they are fatigued, their ability to learn, perform or recover is significantly hampered – while the risk of soft tissue injuries is increased – so having the right insights allows coaching teams to build performance profiles and training plans that optimize athlete performance.
"If you look at the Stanford Cardinal, they managed to keep one of the best players in the country – Jordan Morris – injury free all season. Being able to field your best players consistently game after game, because they are properly managed, is a huge advantage.
"The technology helps keep players on the field for longer and with more energy, as well as better manage players coming back from injury," said Snow.
Customizable
One reason why VX Sport is so popular with college sport – besides giving them access to professional grade technology at much lower cost – is because it is customizable.
Sports Sciences Consultant at VX Sport, Steve Gisselman – himself a former assistant coach of athletic performance at the University of North Carolina – said the agile nature of the VX Sport technology means the technology and software can be adapted to the specific needs of individual teams.
"For example, some of the wearable technology that is on the market doesn't fit as comfortably with female athletes as they should, so we're meeting 1-on-1 to develop a new vest that works with all female athletes."
Gisselman said that as a former coach he knows how important it is for a coach to be able to back his or her calls with empirical data.
"It's easier to lead athletes when you can back up your decisions with the metrics. It offers a slight edge as well because many athletes, being naturally competitive, will start striving to improve their own performances. In effect they start to compete with themselves – it helps both players, coaches and teams take their performance to the next level, and I think we're seeing that in the college soccer results," he said.
For more information, visit http://www.vxsport.com
About VXSport™
VX Sport designs, manufactures and distributes pro-sport level wearable-tech hardware, and analysis software, that provides detailed metrics to help coaching teams in the United States and worldwide to better manage and optimize athletic performance.
VX Sport's commitment to keeping costs down, and the company's simple but scientifically accurate reporting software, makes VX Sport the preferred provider of robust, high end quality performance measurement equipment to professional (and other elite) teams around the world – including the New Zealand national rugby team (The All Blacks), the New Zealand National League Team, Quicksilver (surfing), Wellington Hurricanes (professional rugby team) and more than 30 US college sports teams.
Contact
VX Sport
Richard Snow
+1-424-253-6309
http://www.vxsport.com/the-vx-system/
Steve Gisselman
Sports Science Consultant
T: +1-919-360-1173
E: steveg@vxsport.com

Contact