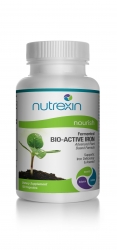 Venice, FL, January 22, 2016 --(
PR.com
)-- Recent Study Finds That High Doses of Iron Salts Found in Conventional Iron Supplements Can Seriously Impede Iron Absorption
In October 2015, the results of a clinical trial concluded that supplements containing iron salts can decrease iron absorption in iron-depleted young women. Iron salts (known as iron sulfate or ferrous sulfate), a common ingredient in conventional iron supplements, were discovered to increase the production of Hepcidin. Hepcidin is a 25 amino acid peptide hormone that inhibits iron entry into the plasma compartment from the three main sources of iron: dietary absorption in the small intestine, the release of recycled iron from macrophages (a type of white blood cell) and the release of stored iron from hepatocytes (the predominant cell type in the liver). Increased levels of Hepcidin greatly inhibit the absorption of iron in the body. To read the study in its entirety, go to Blood Journal's online publication:
http://www.bloodjournal.org/content/126/17/1981
Iron therapy is essential. According to the World Health Organization, iron is the most common and widespread nutritional deficiency and is the only deficiency still very prevalent in industrialized countries. Anemia affects over 33% of the global population.
Nutrexin's
Bio-Active Iron
provides effective fermented iron supplementation. The whole-body plant-based formula includes naturally iron-rich ingredients, as well as additional ingredients known to support a healthy metabolism and healthy inflammatory response. These key ingredients, paired with a special 2-step fermentation process, allow better absorption and more bioavailability, without the side effects of conventional iron supplements.
Nutrexin of Switzerland, parent of Nutrexin USA, was originally founded by Herbert Marty, owner of Nature's First Apothecary in Zurich. Combining over 60 years of research with 10 years of continued success in Europe, the Nutrexin USA product line offers natural support and relief to iron deficiency, anemia, irritable bowel syndrome, fibromyalgia and other chronic conditions. All of their plant-based, whole-body formulas have a high absorption rate. Visit
www.nutrexinusa.com
for more information on the products and the company.
For further information on this press release please contact Sabine Anderson at (805) 630-0836.