X-Files' Actor Makes Book of Burlesque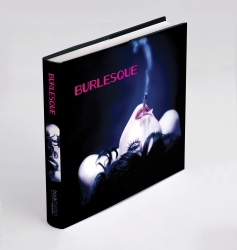 Hollywood, CA, January 23, 2016 --(
PR.com
)-- Actor Christopher Logan, Guest-Star of the upcoming X-Files episode "Founder's Mutation" (Jan.25th) and films 'Connie and Carla', 'Saving Silverman' and 'Tron Legacy', has produced a coffee table book of top burlesque stars.
'BURLESQUE' is the follow up to 'dr.a.g.' (for dressed as girl), which celebrated top drag performers and was chosen as a VIP Gift at the Sundance Film Festival's Independent Filmmaker's Lounge both this year and last.
Logan makes books to raise funding for independent film projects. "A new way to turn a book into a movie", he quips. 'Connie and Carla' connected Logan to the drag community allowing the first book to come together. "The drag performers were very welcoming and open to the idea. Everyone was thrilled with the final book."
After 'dr.a.g.', comes 'BURLESQUE', a 160-page large-format book, filled to the brim with stunning full-colour photography of stars Immodesty Blaize (UK), Kalani Kokonuts (Vegas), Little Miss Risk (Vancouver), LouLou D'vil (Finland), the renowned Dita Von Teese, and even a few men like The Stage Door Johnnies.
"Drag is too much fashion for one gender", says Logan. "Burlesque is when you leave it all on the floor".
"Exploring the diversity within a subculture allows us to see all sides of it", he says. "These photographs speak for themselves, letting the performers showcase themselves doing what they do best, with their own signature style".
A nice bit of trivia: the book's back cover photo of Little Miss Risk was shot by Ed Araquel, who was the Stills Photographer on the X-Files shoot.
'BURLESQUE' is available at
www.bookthefilm.com
Cover photo by Karl Giant, Model: Meow Meow.
Contact
Bookthefilm
Christopher Logan
778-233-2650
www.bookthefilm.com

Contact