Shaddock Development Company Announces Purchase of 122 Acre Development in Parker, Texas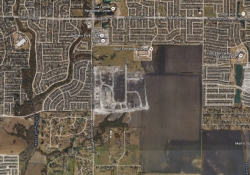 Dallas, TX, February 01, 2016 --(
PR.com
)-- Dallas-Fort Worth based Shaddock Development Company has acquired 122 acres in Parker, Texas between E Bethany Drive and Allen Heights Drive. The development, Parker Ranch Estates, consists of 67 lots on 1-2 acre with convenient access to North Central Expressway.
William Shaddock, Partner and Head of Acquisitions, said, "We believe that the Parker Ranch Estate homes will quickly become one of the most desirable neighborhoods in the Allen ISD communities. These are high quality, luxurious homes in a great location that are available at an affordable price-point."
The development is located within walking distance to Bolin Elementary School, Mustang Creek Trail, and Bethany Lakes Park. These traditional single-family homes will be built by Shaddock Homes and Newcastle Homes.
"This master planned community has tremendous value. These spacious 1-2 acre lots are priced similarly to much smaller lots in the Allen ISD area. It contains the perfect country atmosphere but is just a short drive to the Plano, Allen, and Fairview areas. We are already gaining a lot of attention from potential home buyers," said Shaddock.
The land was delivered by Shaddock Development Company in early January 2016 and purchased by builders Shaddock Homes and Newcastle Homes. The homebuilders are currently marketing the homes for sale to the public.
Shaddock Development Company is a leading land developer in the DFW area. Currently, they are nearing completion of several subdivisions in Frisco, McKinney, Rockwall and other irreplaceable suburban infill locations. Look for Shaddock Development Company to announce the completion of these projects to the public later this year.
Contact
Shaddock Development
William Shaddock
(214)-405-6942
http://www.shaddockdev.com/

Contact