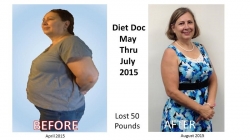 Los Angeles, CA, February 08, 2016 --(
PR.com
)-- For many Americans, finding a doctor who truly understands the science and nutrition behind safe, healthy and
fast weight loss
can be frustrating. This is because weight loss is a relatively new medical field and there are, unfortunately, only a handful of doctors completely dedicated to this practice alone. Fortunately, Diet Doc is a
medical weight loss
provider who has created an all-inclusive fast weight loss program with the ability to help those who are struggling to lose those final 10-20 pounds to those who must lose 100 pounds or more. The company's doctors have received specialized education in nutrition and weight loss, enabling them to help over 97% of their patients successfully lose and sustain weight loss 20 or more pounds per month.
Diet Doc's revolutionary new medical weight loss programs offer people from any part of the country the opportunity to finally reach their ideal weight by connecting with a team of doctors, nurses, nutritionists and coaches, all specially trained in the science of safe, healthy and fast weight loss. The team of experts is available on an unlimited basis and follow each patient's progress and comfort level via scheduled weekly checkup calls. This close, personal attention is unparalleled by the competition and has resulted in Diet Doc becoming a nationally recognized, trusted and reliable leader in the medical weight loss industry.
Diet Doc patients are so successful because their doctors tap into and address the real reason for uncontrolled weight. During a convenient, personal online consultation, the doctor reviews the entire system to identify issues that may be causing weight gain or hindering weight loss. Hormonal imbalances, improperly functioning organs and cellular toxicity are addressed and recommendations for the safest and most effective weight loss method that will work to reverse those issues, is documented in a full report. Patients are then paired with their own personal nutritionist who tailors meal and snack plans that may include some of the patient's food preferences, while also being compatible with their age, gender, activity level, medical conditions and nutritional needs.
The experts at Diet Doc understand that reducing calories and eliminating carbohydrates can be a difficult struggle, many times so powerful that patients simply abandon their weight loss goals and succumb to the temptation to reach for fatty, high carb, processed foods. For this reason, the company incorporates their pure, prescription hormone diet treatments, appetite suppressants, diet pills and powerful fat blockers. This powerful blend not only generates faster weight loss by signaling the brain to seek out stored fat from the hard to lose areas to be released into the bloodstream, burned and quickly flushed from the system, but it also eliminates the typical dieting side effects. Patients throughout the country are noticing the very rapid loss of excess fat in the belly, hips, thighs, underarms and buttocks and are reporting looking and feeling better than ever before within days of beginning Diet Doc's medical weight loss program.
Diet Doc is committed to providing their clients with a fast, but also healthy and safe, method for achieving their ideal body weight and uses only the highest quality of all natural ingredients in their treatments. Because of this dedication, and because of the proven, healthy weight loss results that clients have experienced, more and more people are turning to Diet Doc, the leader in medical weight loss.
About the Company:
Diet Doc Weight Loss is the nation's leader in medical, weight loss offering a full line of prescription medication, doctor, nurse and nutritional coaching support. For over a decade, Diet Doc has produced a sophisticated, doctor designed weight loss program that addresses each individual specific health need to promote fast, safe and long term weight loss.
Diet Doc Contact Information:
Providing care across the USA
Headquarters:
San Diego, CA
(888) 934-4451