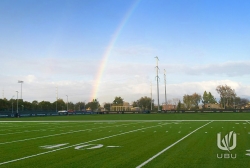 Santa Clara, CA, February 04, 2016 --(
PR.com
)-- UBU Sports®, the premier manufacturer and supplier of synthetic turf systems that optimize performance and improve safety, is once again supporting the Super Bowl as the Carolina Panthers face the Denver Broncos on Sunday, February 7 at Levi's Stadium in Santa Clara, Calif., home of the San Francisco 49ers. UBU Sports' synthetic turf system is installed on the 49ers practice field directly adjacent to the stadium where numerous activities supporting the big game will take place. And throughout the season, a UBU Sports synthetic turf system has been used to practice on by one of Sunday's participants, the Denver Broncos.
This is the fourth straight Super Bowl UBU Sports has been a part of. Last year at Super Bowl XLIX at University of Phoenix Stadium, the adjacent practice field that features a UBU Sports synthetic turf system was utilized in the festivities. In 2014, Super Bowl XLVIII was played on a UBU Sports synthetic turf system at MetLife Stadium, and the previous year, Super Bowl XLVII was played at the Mercedez-Benz Superdome, which is home to UBU Sports' Speed S5-M synthetic turf surface. And next year, it will be five years in a row as the Super Bowl heads to Houston. UBU Sports also surfaces the practice field for the Houston Texans.
"It's an honor to be involved with the biggest sporting event in the world, be it directly or indirectly," says UBU Sports CEO Mark Nicholls. "We take tremendous pride in scientifically engineering the most advanced synthetic turf systems available today, and it's very rewarding seeing those systems not only supporting so many NFL franchises, but the Super Bowl as well."
UBU Sports is a leading brand of synthetic turf surfaces for use in a variety of sporting events, including football, baseball, field hockey, soccer, rugby, and lacrosse. UBU Sports' fields serve as ground gear for teams ranging from professional franchises (e.g. New Orleans Saints, Minnesota Vikings, Cincinnati Bengals, San Francisco 49ers, Denver Broncos, Chicago Bears, Pittsburgh Steelers, Arizona Cardinals, Houston Texans, New York Jets and New York Giants), collegiate and major indoor arena leagues to local high schools and municipalities. UBU Sports incorporates science and technology into each surface they provide, creating the ultimate ground gear for athletes.
For more information on UBU Sports, please visit www.ubusports.com.