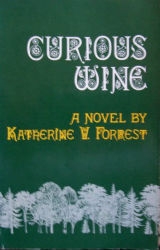 Dallas, TX, February 05, 2016 --(
PR.com
)-- Curious Wine named 2016 Lee Lynch Classic Award Recipient.
Curious Wine by Katherine V. Forrest is, without challenge, the seminal lesbian romance. Not only did it break all sales records, going on to sell more than 250,000 copies, it set the standard for lesbian emotional and sexual expression. Hundreds of thousands of lesbians were moved and validated by the story, and the storytelling craft influenced decades of writers that followed in Forrest's footsteps to write stories exclusively focused on lesbian love.
First published in 1983, it was available from The Naiad Press until 2003, thereafter from Alyson Books, and republished by Bella Books in 2011, when it was finally made available in digital formats. Curious Wine is both a product of its time and of compelling, contemporary interest.
More than thirty years later, Curious Wine is still the gold standard for eroticism and heart-pounding emotional power. It is the novel that told readers and writers alike that love isn't part of the story, love *is* the story.
The GCLS aims to recognize books that convey meaningful lesbian experiences with influential historical value to the lesbian community. The Lee Lynch Classic Award honors a specific book that is timeless. The award was first presented in 2012 to The Swashbuckler by Lee Lynch, the namesake for this prestigious award.
The Lee Lynch Classic Award is selected by GCLS Trailblazers from nominations submitted over a four month period. Some of the Trailblazers described the impact Curious Wine has had on Lesbian Literature:
Lee Lynch (Beggar of Love, An American Queer): "The impact of the classic romance novel Curious Wine was extraordinary in 1983 and continues to be so today, more than thirty years after its first publication. Katherine V. Forrest's great craft as a novelist is displayed elegantly and powerfully in Curious Wine. The book positively touched and changed the lives of untold numbers of women. This standout book is an honored gift to lesbian literature."
Karin Kallmaker (Just Like That, The Kiss That Counted): "Curious Wine is the book that changed my life. The first book that reflected my lesbian self and made it beautiful. For an entire generation of writers Curious Wine set the standard for lyric sensuality and deeply crafted lesbian characters who find the will and the power to choose life and love."
Ann Bannon (Beebo Brinker, Odd Girl Out): "It would be hard to imagine a book more beloved by the lesbian community than Curious Wine, a paean to love between two women. How many others, picking up this poetic novel, have recognized themselves in its portrait of Lane and Diana falling tentatively and then with whole hearts into joyous passion. Since its publication in 1983, Curious Wine has been treasured by readers around the world for its beauty, candor, and power to move the spirit. From the start, and on its own merits, it was a classic, and the years have confirmed the judgement of its first readers. It is still the initiation story of lesbian love for young readers today, and the one that stays with them for a lifetime. There can be no finer choice for the Lee Lynch Classic Book Award."
The Golden Crown Literary Society (GCLS) is a 501(c)3 non-profit, volunteer organization whose mission is education, and the promotion and recognition of lesbian literature. Our goals are to provide learning opportunities, encouragement, and assistance to new and established authors in developing their craft; support and strengthen quality lesbian writing by providing educational programs and creating opportunities for readers and writers to interact; and to recognize and promote lesbian literary work.
Curious Wine and all other Goldie Awards winners will be honored at our Twelfth Annual Conference, culminating in our Awards Ceremony on July 9, 2016 at the Hilton Alexandria Mark Center in Alexandria, Virginia.
Please visit our website (http://www.goldencrown.org) for more information about the organization and the Annual Conference.