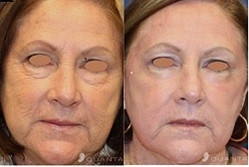 Burke, VA, February 11, 2016 --(
PR.com
)-- At Skin Deep Laser Services in Burke, Virginia they offer affordable laser skin resurfacing solutions to the everyday people of Northern Virginia and D.C. for which, in the past, could only be found among the elite in Hollywood or New York!
Skin Deep Laser Services' Quanta YOULASER Co2 Fractional Laser System offers a variety of customizable settings allowing their clients to choose from relatively superficial treatments to deeply ablative treatments. Their system delivers extremely short pulses of energy in repeated sequences on the skin with the ability to generate tailored patterns of micro-dots to achieve results no matter the contour of the area being treated. In the past, fractional skin resurfacing was used only for light skin types and would hypo-pigment skin of color. With the YOULASER Co2, Skin Deep Laser Services has the flexibility to treat a variety of Skin Types. Some of their most recent success has been found in treating clients of Latino and Asian Skin Types for acne scarring, sun damage, age spots and wrinkles. Their investment in state of the art technology like the YOULASER delivers the best results, to a variety of skin types, while offering minimal downtime and recovery for clients.
Now is the time for a laser skin resurfacing treatment with the YOULASER! The weather is cold and spring is just around the corner! If you have been contemplating skin resurfacing, please do your research and book a free consultation at Skin Deep Laser Services. http://skindeeplaserservices.com/services/fractional-co2-laser-skin-resurfacing/
Skin Deep Laser Services honor our Active Military, EMT, Fireman, Police Officers and Military Veterans by offering discounts and treatment packages.
Skin Deep Laser Services looks forward to helping you achieve your goals!