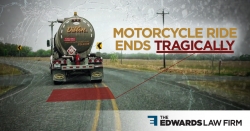 Corpus Christi, TX, February 12, 2016 --(
PR.com
)-- A $25 million judgement has been entered in Nueces County District Court against a Chicago-area trucking company and two others in a
crash
that severely injured two local motorcyclists,
attorney Billy Edwards
has announced.
A Nueces County Jury had found that Dillon Transport, Inc. was 60 percent at fault in the accident because it did not properly supervise its drivers. The jury assigned 20 percent of the fault to the truck driver, Kenneth Jennings, and 20 percent to the motorcycle driver, Miguel Garacia.
Theresa Gamez, 51, and Garcia, 52, suffered traumatic brain and other injuries in the crash March 2, 2013, on Highway 188, a narrow two-lane road in San Patricio County. On a curve, the semi's trailer crossed into the oncoming lane, striking the motorcycle traveling in the opposite direction and sending it into a crash. Gamez suffered numerous injuries, including brain trauma.
Dillon Transport, headquartered in Burr Ridge, Il., "had an obligation under federal law to supervise and train its drivers," said attorney Billy Edwards. "Yet Dillon argued at trial that it had no responsibility to know and monitor which roads its drivers took, regardless of the impact on public safety." Edwards and Angie Beltran, both partners in the
Edwards Law Firm
of Corpus Christi, represented Ms. Gamez.
"This 65-foot long truck never should have been on this narrow, curvy, shoulder-less road when alternative multi-lane highways were available. It put everybody at risk," Edwards said. Evidence presented at trial showed rural two-lane highways are up to five times more dangerous for trucks to drive on than multi-lane highways with improved shoulders. Evidence also showed that the safer route would have added only a few minutes to the trip.
Dillon Transport executives testified during the three-week trial they never checked out the routes or talked to drivers about the routes they used to haul loads from the Eagle Ford Shale area to the coast. Dillon attorneys argued the company did not have to supervise drivers or their routes because their drivers held commercial drivers' licenses.
"The jury sent a clear message to trucking companies that they must take responsibility for their drivers, and if they don't, the civil justice system will hold them accountable," Edwards said.
"Because the driver took an unsafe short-cut, two people lost what had been bright, productive futures, and are now permanently disabled," said Alejandro Blanco, attorney for Garcia, and partner in the Blanco Law Firm, PC, of Glendale, CA. Garcia was both a defendant and cross-plaintiff in the suit.
Theresa Gamez v. Dillon Transport, Inc., was filed in Nueces County District Court, Corpus Christi, case No. 2015DCV-0235-B. The jury announced the verdict on Dec. 18, 2015. The judgement was signed by the court and entered January 19, 2016.
Billy Edwards is an enthusiastic Harley rider and has been representing motorcyclists and their families in serious injury cases for more than 25 years. Billy is Board-Certified in Personal Injury Trial Law by the Texas Board of Legal Specialization, a qualification held by only five percent of all attorneys in Texas.