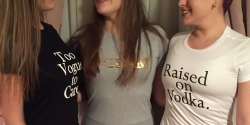 New York, NY, March 14, 2016 --(
PR.com
)-- Whimsy Fashion - Just launched! Expressive Trendy Graphic Statement T-Shirts and Fleece for Women.
Inspirational tee shirts and customized sportswear are just a few of the colorful apparel items for sale at Whimsy Fashion. Owner, Tracy Marie, has made it her business to enhance the way women dress for fun to express their individuality. With a degree in marketing and a background as a buyer for a major department store in New York City, this fashion diva has a keen eye for style and a sharp sense of fashion. And as expressive t-shirts become a popular trend for 2016, Tracy has a lot to offer.
Her latest endeavor is Whimsy Fashion, which is an online boutique that sells modern women's apparel and sportswear for all ages. Inspired by the female form and new design trends in women's apparel, Tracy is a force to be reckoned with. She combines the better of two worlds when it comes to dressing women – style and functionality. Each item offered as part of the Whimsy Fashion line easily transitions from day to night.
For Tracy, there is nothing she loves more than creating high quality apparel that will enhance another person's life. With an impressive work ethic and only the finest quality craftsmanship, the Whimsy Fashion line is simply incomparable to the rest. Each one of Tracy's designs features the highest grade of materials and incorporates perfected manufacturing techniques that result in an original product that can be worn repeatedly. All apparel items are designed and printed in the USA.
With an imaginative personality and a unique sense of style, Tracy provides her customers with the finest clothing products. Each item in the Whimsy Fashion line tells a story of its own and is sure to become a favorite styling option for the person who wears it. Her clothing items are available exclusively online at www.WhimsyFashion.com.
As Tracy continues to build a steady customer base, she seeks to expand the availability of the Whimsy Fashion line to stores and designer boutiques. For interested buyers and store managers, please use the above contact details to discuss availability with her personally. Tracy is also amenable to interview requests and magazine, blog or newspaper features.
Hi-Resolution photographs of her products are available by request. Tracy is currently offering wholesale and licensing opportunities for interested parties.
Tracy Marie
Owner, Whimsy Fashion
www.whimsyfashion.com
whimsyfashion@yahoo.com