Kraken Stormwater Filter NJCAT Verification
The Kraken Membrane Filter is NJCAT verified and NJDEP approved.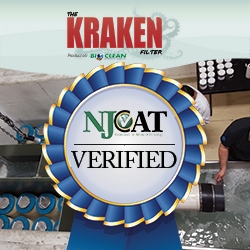 Oceanside, CA, February 23, 2016 --(
PR.com
)-- In January 2016, Bio Clean Environmental's
Kraken Membrane Filter
received written verification from the New Jersey Corp. for Advanced Technology. In addition, the system received approval by the New Jersey Department of Environmental Protection just a few weeks later. The Kraken membrane filter is the first stormwater membrane filter system to be approved under the new NJDEP protocol and the newest technology to join the Bio Clean line of products.
The Kraken is an engineered storm water quality treatment device utilizing a reusable membrane filter designed to remove high levels of TSS, hydrocarbons, and particulate bound metals and nutrients found in contaminated storm water. It's overall sediment removal efficiency was 89% and as high as 98% by the end of testing.
The Kraken Membrane Filter provides high flow rates in a smaller footprint. The 170 sq.ft. of surface area allows it to operate at a loading rate of only 0.05 gpm per square foot, to ensure maximum performance and minimum maintenance. The Kraken Membrane Filter's low loading rate successfully overcomes high maintenance requirements and frequent clogging issues often found in other filter systems advertising high loading rates. Overall, the Kraken Membrane Filter provides no granular media to replace, high treatment flows with minimal footprint, low-cost treatment systems, easily-maintained filter cartridges providing reuse and unclogging capabilities.
"The system out-performed all of our expectations and its removal efficiency kept improving over the 33 test runs. We saw no breakthrough and the system never showed any signs of clogging. It appeared we could have kept going indefinitely. This means not only will the system meet performance standards, but it will vastly reduce the maintenance requirements to end users when compared to other available technology," said Zachariha Kent of Bio Clean, inventor of the system.
In January 2016, the Kraken Membrane Filter received written verification from NJCAT. The report is currently posted on the NJCAT website.
About NJCAT
The New Jersey Corporation for Advanced Technology (NJCAT) is a private/public partnership that pools the best talents and diverse resources of business and industry, entrepreneurs, university research centers, utilities and government to promote the development and commercialization of emerging innovative energy and environmental technologies. NJCAT seeks to identify worthy technology candidates for verification. These new technologies proposed to NJCAT possess the necessary scientific, commercial, and policy attributes to justify their rapid development and implementation.
About Bio Clean Environmental Services, Inc.
Bio Clean offers 16 different stormwater treatment and management systems - More than anyone else in the industry. Our product line includes catch basin filters, media filters, specialty filters (including the downspout filter), various filtration media, hydrodynamic separators, screening devices, underground detention systems, and various biological filtration systems. Since 1999, Bio Clean has been assisting municipalities, engineers, developers, and contractors to comply with the constantly changing stormwater regulations.
Contact
Bio Clean Environmental Inc.
Megan Thudium
1.760.433.7640
http://www.biocleanenvironmental.com/

Contact