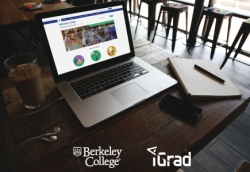 New York, NY, February 24, 2016 --(
PR.com
)-- Financial literacy education leader iGrad announces that
Berkeley College
has selected
iGrad's adaptive learning platform
to enhance the delivery of financial literacy programs to students served by the College. Established in 1931, Berkeley College is a regionally accredited institution that provides a career-focused education to more than 8,000 students, including 700 international students, at nine locations throughout New York and New Jersey and online.
"Berkeley College chose iGrad because it is the most comprehensive, interactive learning financial literacy web platform on the market today," said Thomas Kokis, Director of Student Financial Literacy at Berkeley College.
The iGrad online financial literacy platform is an interactive experience that employs adaptive learning technology to help students sharpen their knowledge about paying off (student) loans, affording a home, paying credit card bills, investing, budgeting and planning for emergencies. The platform offers games, videos, financial calculators, learning modules, news and articles, the ability to chat with a counselor and optional video-based student loan entrance and exit counseling.
Berkeley College is committed to assisting students with developing the financial skills needed to achieve their life goals. A dedicated team of financial literacy professionals is on hand to assist students and educate them about all aspects of financial planning and budgeting. Students have access to classroom instruction, financial literacy resources and innovative solutions to managing their finances.
The iGrad platform was launched campus-wide in October 2015 – making it available to Berkeley's current students – as well as prospective students, alumni, and staff. Although participation in the platform is optional, the College sees an additional opportunity to use iGrad's interactive tools to enhance personal finance and financial literacy courses currently taught in the classroom.
"iGrad is an effective tool in promoting financial literacy and engaging students in best practices to manage their finances," said Howard Leslie, Vice President, Financial Aid.
"We hope more schools will follow the example set by Berkeley College when it comes to educating college students about their finances," said Kris Alban, Vice President of iGrad.
About Berkeley College: Berkeley College empowers students to achieve lifelong success in dynamic careers and has been preparing students for successful careers since 1931. Remaining true to their "students first" commitment, the college continues to be the college of choice for students pursuing lifelong success in dynamic careers and employers seeking graduates prepared to meet the demands of the global marketplace.
Berkeley College offers career-focused programs, supportive professors with real-world industry knowledge, hands-on learning through an internship program, and a variety of supplemental programs and activities.
About iGrad: iGrad is privileged to partner with over 600 schools across the country to provide an industry-leading, customizable platform, which connects over 1.2 million students, as well as alumni and staff, with the tools needed to succeed in the real world of personal finance. iGrad is the only online community providing a comprehensive and customized financial literacy program featuring career assistance for students and graduates, user-specific financial education courses, and video-based student loan entrance and exit counseling. iGrad's recent accolades include: 2013 & 2015 Education Program of the Year, the Institute for Financial Literacy; Best Product of 2013, 2014 & 2015, University Business magazine; and Outstanding Consumer Information Award, Association for Financial Counseling, Planning and Education (AFCPE).