Brian P. Murphy Opens New Personal Injury Law Practice; Weighs in on Family's Right to Pursue Lawsuit in Recent Nursing Home Death Case
Nursing home murder case triggers new questions about a family's right to pursue legal action against care facility. Personal injury attorney Brian P. Murphy addresses these concerns from his new law practice that exclusively serves Pennsylvania & New Jersey nursing home abuse & neglect victims.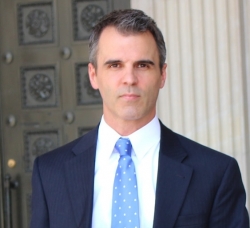 Philadelphia, PA, March 02, 2016 --(
PR.com
)--
Philadelphia Nursing Home Abuse Attorney
In September 2009, Elizabeth Barrow was strangled and suffocated by her 97-year-old roommate. Prior to the murder, the roommate had been assessed by the facility as "at risk to harm herself or others" and yet the facility failed to take any action. Ms. Barrow's family has since fought a six-year legal battle to take the facility to court and hold it accountable. The Barrow family was precluded from bringing the case to court due to an arbitration clause in Ms. Barrow's admission agreement. The arbitration clause barred Ms. Barrow the right to a jury trial.
Inserting arbitration clauses deep within nursing home admission agreements has become a common practice for facilities that wish to deprive residents of their right to trial in the event of an injury. Facility owners recognize that if their facility commits negligence and injures or even causes the death of one of its residents, it is far less likely to have to pay a substantial amount of money if the case goes to arbitration rather than trial. In light of this fact, hidden within most facility admission agreements, are arbitration clauses that bar the resident's right to trial.
Although in recent years there has been some progress made in fighting the legality of arbitration clauses in nursing home contracts, it is a tough fight as courts have long favored enforcing arbitration agreements in all contracts. In order to avoid this legal battle, it is advisable that those entering or currently in nursing homes review their admission agreements carefully and inquire about the existence of arbitration clauses. If you find an arbitration clause, refuse to sign it or have it removed. If the facility does not cooperate, contact Brian P. Murphy for assistance.
You have no obligation to agree to arbitration. Although a facility may seek to have you waive your right to trial or even try to intimidate you into signing an arbitration agreement, don't do it. Stand firm. If you are injured, you have a right to trial. It is very unlikely a nursing home will refuse to accept you simply because you decline to waive your right to trial. Keep in mind that nursing homes are in the business of making money and they can't make money without residents. Facilities are far more likely to waive an arbitration clause than turn you away.
About Brian P. Murphy, Esquire
Licensed in Pennsylvania and New Jersey, Brian P. Murphy, Esquire is a personal injury attorney who focuses exclusively on nursing home abuse and neglect cases in Philadelphia as well as throughout the states of PA and NJ.
After working for numerous law firms in the area, Mr. Murphy decided it was time to open his own law practice and, in the fall of 2015, established The Law Firm of Brian P. Murphy, PC, located in Newtown, Bucks County, Pennsylvania.
Telephone: 215-579-8500.
From
bed sores
to
wrongful death
, falls, malnutrition, dehydration, wandering, elopement, stool impaction, and other injuries that are largely avoidable and result from neglect and abuse, Brian Murphy has litigated cases involving a wide range of negligent care. Sharp and aggressive, Mr. Murphy takes swift action against these nursing home facilities, holding them accountable for their wrongdoing.
There are many reasons to contact a qualified nursing home abuse attorney such as Brian P. Murphy. Whether you are selecting a nursing home, currently have a loved one in a nursing facility, or have lost a friend or relative due to nursing home neglect, Mr. Murphy can tap his extensive experience litigating nursing home matters throughout New Jersey and Pennsylvania and bring you justice.
For more information about The Law Firm of Brian P. Murphy, PC, or Philadelphia, Pennsylvania, and New Jersey nursing home abuse and neglect, please call the office directly or visit its website:
The Nursing Home Attorneys
Contact
The Law Firm of Brian P. Murphy, PC
Brian P. Murphy
215-579-8500
www.thenursinghomeattorneys.com

Contact