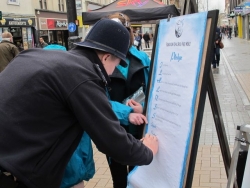 East Grinstead, United Kingdom, March 03, 2016 --(
PR.com
)-- As reported March 2 by the
East Grinstead Courier
, the city's mayor, Councillor Dick Sweatman, signed the Foundation for a Drug-Free World drug-free pledge February 19, launching a nationwide "Mayors Against Drugs" campaign.
The campaign is a joint effort of the Jive Aces - Britain's Got Talent semi-finalists and UK's number 1 swing and jive band and - and the Foundation for a Drug Free World, a drug education initiative supported by the Church of Scientology.
Councillor Sweatman endorsed this campaign to encourage other mayors to come on board and take a vocal and personal stand against a problem that affects communities throughout the country.
"Recent headlines highlight that our town is not immune to the pandemic levels of drug use and drug addiction," he said. "If I can encourage one young person to turn away from drug use, my signing this pledge will be worth it. Though I hope to encourage many more than that."
Because drug abuse is a global problem, it requires a global solution, and the Church of Scientology developed such an initiative - the Truth About Drugs program. The Church has made it accessible and usable by anyone anywhere and it is now one of the world's largest nongovernmental drug information and prevention initiatives.
The Foundation for a Drug-Free World is a secular nonprofit corporation, formed in 2006 to serve as the primary distributor of The Truth About Drugs educational materials and to develop new materials to meet the challenge of continually changing drug trends.
The Foundation oversees the Truth About Drugs campaign and coordinates an international network of volunteers brought together by their common purpose to create a drug-free world.
Over the past few years, volunteers have distributed nearly two million copies of the Truth About Drugs booklets throughout the U.K.