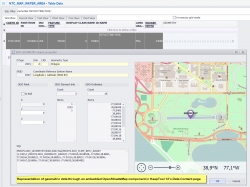 Berlin, Germany, March 08, 2016 --(
PR.com
)-- For close to 20 years, KeepTool has been serving the needs of developers, database administrators and end users, streamlining their interaction with the Oracle database. To keep up with the ever-evolving database, KeepTool now offers full support for Oracle 12c, including the latest version of Oracle Spatial (at right). The user experience now sports an even friendlier interface. Beginning with KeepTool 12, KeepTool Free gives end users a simple way to read and manipulate data.
KeepTool is an intuitive Oracle tool:
KeepTool can be considered a real Swiss Army knife when it comes to any and all development and administrative tasks for the Oracle database. All Oracle features are completely supported; moreover, suggestions from users are always welcomed and integrated at the first opportunity.
The software has been designed to be intuitive. Anyone familiar with the Oracle database will quickly find his way around it without the need for a manual. Today's user interface now incorporates aspects of the Material Design standard.
Editions tailored to specific requirements:
- KeepTool Professional includes Hora, a development and database administration tool, and its supporting products: SQL Editor, HTML Documentation Generator and Reverse DDL Engineer. Hora makes it easy to visualize geographic data, and in Keep Tool 12, the interface to Oracle Spatial has been further built out.
- KeepTool Enterprise contains all the tools in the Professional Edition and adds ER Diagrammer, PL/SQL Debugger and DB Compare.
- KeepTool Free is the introductory version for new Oracle users, allowing them to generate simple queries and reports without any specialized Oracle knowledge. Starting with Version 12, KeepTool Free can be downloaded at absolutely no cost.
Wide-ranging compatibility and flexible licensing:
KeepTool makes it easy to import and export data using formats as varied as Excel, CSV, Access, XML and KML.
All KeepTool 12 versions are compatible with Windows 7, 8.1 and 10, as well as the corresponding Windows Server versions 2008 Release 2, 2012, 2012 Release 2 and 2016. All editions are available as either 32- or 64-bit versions.
Licensing is for either a dedicated workstation or a network seat.
Volume discounts are 20% for up to 5 licenses and 30% for 10 or more licenses.
About KeepTool GmbH:
Since its founding in 1997 in Berlin, KeepTool GmbH has provided tools for Oracle developers, administrators and end users all over the world. Keeping step with new database enhancements by Oracle, KeepTool continues to evolve its software products to incorporate the latest database features.
Further information--and a 30-day free trial--are available at
www.keeptool.com