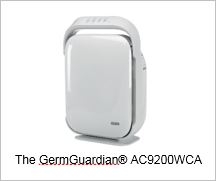 Euclid, OH, March 14, 2016 --(
PR.com
)-- While this time of year typically means an end to snow for many of us, it is also the start of another seasonal foe: spring allergies. April showers bring more tree and weed pollen, triggering allergy symptoms for the nearly 50 million Americans who suffer from nasal allergies. Thanks to the new GermGuardian® brand air purifiers from Guardian Technologies, help, like spring, is here.
According to the American Academy of Allergy, Asthma and Immunology (AAAAI), allergy symptoms are the result of a cumulative effect of multiple allergens and non-allergic triggers. Rather than suffer through the season in misery, seasonal allergy sufferers can take small steps to improve their indoor air quality.
To help create a healthier home environment, the GermGuardian® air purifiers have expanded with new models that offer multiple levels of filtration – including HEPA that captures 99.97% of dust and allergens as small as .3 microns in size – and a charcoal filter to capture odors. Each purifier also features UV-C Light Technology, which kills germs and bacteria.
The new GermGuardian® air purifiers consist of four products:
GermGuardian® AC4020: 3-in-1 True HEPA Air Purifier System with UV Sanitizer & Odor Reduction
This nine inch mini tower is the perfect purifier for any room and fits great in small spaces. Features include three speed controls with a low-speed option that runs ultra-quietly, and a filter replacement reminder. This simple, stylish design looks great in any home environment. Suggested retail price: $59.99.
GermGuardian® AC4900CA: 3-in-1 True HEPA Air Purifier with UV Sanitizer & Odor Reduction
An air purifier perfect for allergy sufferers. CADR rated 100+ and standing 22 inches tall, it is lightweight and ideal to use in both small to medium rooms. The easy-to-use controls include UV-C control and three speeds, including a low speed that runs ultra-quiet. It is similar in design to the AC4020, but larger in size. Both these products can be used together throughout the home. The AC4900 is best used on the floor while the AC4020 fits great on a shelf. Suggested retail price: $99.99.
GermGuardian® AC5350W/AC5350B: Elite 4-in-1 True HEPA Air Purifier System with UV Sanitizer & Odor Reduction
This 4-in-1 air purifier includes a digital display panel with UV-C control, filter change indicator and eight hour timer. Five speeds provide high speed allergen control down to ultra-quiet sleep mode. CADR rated 125+ and standing 28 inches tall, it is lightweight and ideal to use in medium to large rooms. This collection provide both form and function to provide a superior air cleaning system. Suggested retail price: $179.99.
GermGuardian® AC9200WCA: Hi-Performance True HEPA Ultra-Quiet Air Purifier System with UV-C, Allergy & Odor Reduction
This purifier covers up to 378 square feet making it ideal for medium to extra-large sized rooms, as well as small office settings A large activated granular carbon filter attacks smoke, cooking and pet odors along with harmful VOC's emitted by household products. An optional ionizer can be turned on to boost allergen control. CADR ratings are high with 244 (smoke), 310 (dust), and 346 (pollen). Other features include touch-screen controls, ultra-quiet operation, three speeds including a sleep mode, UV on/off selector and filter change reminder. Suggested retail price: $399.99
The GermGuardian® air purifiers are currently being sold on the Guardian Technologies' website at
http://www.guardiantechnologies.com
. For more information about the products or to find a retailer near you call, 1-866-603-5900.
Guardian Technologies, LLC, is an Ohio-based company dedicated to bringing innovative, effective and quality new home environment products to the consumer market, including cutting edge UV-C technologies. Guardian Technologies markets products under the GermGuardian®, PureGuardian® and PureGuardian® Spa brand names.