The Kindness Connection Working with Organizations to Achieve Meaningful Corporate Social Responsibility (CSR), While Building Strong Employee Teams
The Kindness Connection has developed a line of programs, specifically geared to help corporations involve their employees in volunteer service to local charities. The program names reflect the type of recipient organization which will benefit: Volunteer for Vets, Create Art for the Aging, Outfit Tots with Educational Toys, Motivate Adolescent Athletes.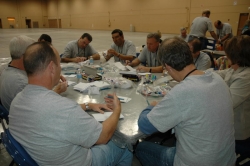 Chicago, IL, March 24, 2016 --(
PR.com
)-- The Kindness Connection (TKC), a respected leader in bringing service learning opportunities to school children, has developed a new line of programs, specifically geared to the corporate market. The names of the four initial service projects available reflect the type of recipient organizations. TKC's current programs offer corporate employees the opportunity to:
· Volunteer for Veterans
· Create Art for the Aging
· Outfit Tots with Educational Toys
· Motivate Adolescent Athletes
Through the years, TKC has received many requests from adult organizations, including corporations to offer programs to their employees during events such as sales meetings, Take Our Daughters and Sons to Work Day®, team building sessions, etc. To meet this demand, TKC designed art-based projects which include components for participants of all levels and abilities. Each project is designed to accommodate a group of 12 people. Businesses large and small can order as many of the same project needed to fit any group size or organizations can order multiple numbers of the different projects to meet the group size. The projects come with complete supplies and instructions, information about the charitable partners and ultimate recipients who will benefit from their kindness, along with shipping materials for the corporation to send completed projects to the recipient charity. TKC offers a guide and/or activities to facilitate team building discussions during the sessions, which can be customized to underscore a corporate event theme, company positioning, etc. An oversized card for the recipient organization is included for the employees to sign. Creating these projects together result in kind and thoughtful gifts for the recipients. Participants will be amazed at how excited and uplifting this event can be for everyone involved, and what a team can accomplish back at work after an event that pulls employees together for such a rewarding cause.
Very often, corporate executives have viewed corporate social responsibility (CSR) as another outside pressure or a trend that other companies have had to deal with. But as their customers, employees, and vendors—and, even overall society place increasing importance on CSR, some leaders have started to look at it as a unique opportunity to strengthen their businesses within their communities and open dialogue with their employees while contributing to society at the same time. They view CSR as central to their overall strategies, helping them to creatively address key business issues.
Increasingly more companies and government agencies are opting to include the creation of CSR programs into their team building and sales programs and meetings. Giving back to local communities and overall society in a meaningful way can be profoundly rewarding. Working side by side on a mission of kindness with fellow colleagues creates strong, long lasting bonds. The process of creating these projects together encourages collaboration within a relaxed and enjoyable atmosphere. It cultivates a sense of camaraderie and teamwork that continues paying dividends long after everyone settles back in at the office.
The Kindness Connection® (TKC) has worked with schools since 2006 inspiring the next generation of volunteers by making meaningful service learning opportunities accessible to school-age children. TKC has accomplished its mission of inspiring lifelong volunteers by connecting thousands of school children with memorable service learning projects each year within the context of their school days. The organization offers students the opportunity to learn about and engage in a diverse range of impact areas - from at-risk youth, to veterans, to sheltered animals and the elderly - letting kids experience how good it feels to help others and to know that they, too, can make a difference.
For more information on TKC's programs or for Organizations that are interested in receiving a Cost Proposal for their upcoming event, visit our website at www.thekindnessconnection.org, email us at corporate@thekindnessconnection.org or call us at 847-807-9340.
Contact
The Kindness Connection
Mary Roth
847-828-9804
www.thekindnessconnection.org

Contact