TheGameCon Announces Gaming Convention in Galveston, Texas
TheGameCon is returning to Galveston, Texas for the second year in a row. Offering Texans a family friendly oriented gaming convention where the whole family an immerse themselves into the world of video games together.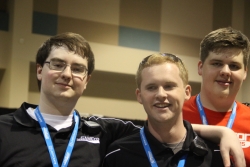 Galveston, TX, March 13, 2016 --(
PR.com
)--
TheGameCon
, a subsidiary of Snaju LLC, has announced that they will be returning to Galveston Island this year on June 4 - 5, 2016. Having over 4,000 entries in 2015, they are looking forward to bringing the fun-filled game-packed convention back to the island for yet another year of gaming for the whole family to enjoy.
TheGameCon was founded in 2015 by local young entrepreneur Zackary Pedersen or by his online handle "keoir," when he was 20 years old and right out of high school. Pedersen was attending University of Houston, seeking a degree in computer information systems, and now is attending San Jacinto College South to finish his basics and to focus on school and TheGameCon together. Pedersen while in high school was in the Boy Scouts of America troop 609, and says "TheGameCon is a way to help show families that gaming can be positive, and can be someone's career if they pursue it."
Recently TheGameCon was featured in CBS prime time show "2 Broke Girls" episode 511 "And the Booth Babes," where Warner Brothers and CBS used TheGameCon logo to show a representation of a gaming convention located in New York City.
TheGameCon this year is working with companies like ReactionAV, Attendle, the Galveston CVB, and the Galveston Island Food Bank to make this year's show "10x bigger than last year," says Pedersen.
You can get your
tickets
online or at the door ($65 for a weekend pass, $35 for a day pass).
Contact
Snaju LLC
Zackary Pedersen
713-714-1360
snaju.com

Contact