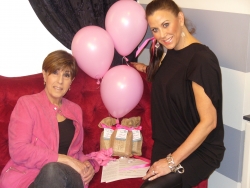 Atlanta, GA, March 16, 2016 --(
PR.com
)-- With an estimated 246,660 new cases of invasive breast cancer among U.S. women predicted for 2016, the probability that you will be touched in some way at some time by this disease is high. How will you handle it?
The new Pink Power Kit
breast cancer game
in the POP Qs Party Games collection was created for family friends of a woman with breast cancer who is facing her first chemo, complementing a trend that has been growing for some time in the breast cancer community. The buddies of breast cancer patients pamper her just before or after her first chemo with a party - refreshments, lots of selfies, offers of help with child care and preparing meals, and sometimes even shaving heads in solidarity. The Pink Power Kit sweetens the event with party decorations and a fun trivia game focused on their friend.
"I connect with the breast cancer community every day," says Rebecca Walden, a top-tier wig stylist primarily dedicated to female cancer patients with hair loss after chemo. "While watching this chemo party trend grow, the idea for the game came to me because, as it turns out, I have a good friend in the party game business. POP Qs Party Games' owner Susan Hawkins said 'Let's do it!' before I even finished explaining my idea."
The two worked together to develop the trivia questions with special care and hope for the future. Pink Party Kits are sold online at popqspartygames.com for $25. A portion of the proceeds from sales of the POP Qs Pink Power Kit will be donated to organizations that include Susan G. Komen and the Georgia Breast Cancer Coalition for breast cancer research, education, and support for women with breast cancer.
About POP Qs Party Games
POPQsPartyGames.com, an online retail party games site, popped online in summer of 2015. The company develops, manufactures and sells time- and energy-saving kits that contain both balloon decorations and a party game with relevant questions for a variety of life's celebrations and special moments.