Sugarman Launches Otto Warmbier Campaign
David Sugarman launched into the political/social activism spotlight in 2013 after he launched the #BringBaeBack campaign to raise awareness for American Kenneth Bae, who is imprisoned in North Korea. Sugarman's goal in creating this campaign was to create more public support for the release of Bae. Through this initiative, Sugarman has met with top-tier government, political and social figures that include US Representative Charles Rangel (NY-D), and Reverend Jesse Jackson.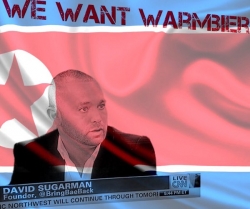 New York, NY, March 16, 2016 --(
PR.com
)-- David Sugarman, CEO of Sugarman World Enterprises, launches the #WeWantWarmbier campaign to open the dialogue via social media and start creating a forum of support for the release of American Otto #Warmbier from North Korea.
www.twitter.com/WeWantWarmbier
Sugarman's launch follows his discussion with the DPRK Ambassador in New York on Thursday, Feb. 25. Sugarman's focus of that talk was the release of United States citizen, Otto Warmbier. This was just days prior to the Warmbier's press conference from People's Palace of Culture in Pyongyang.
Utilizing the same channels used to launch the #BringBaeBack campaign, Sugarman continues to openly discuss the rights of Americans abroad. Through his previous efforts, Sugarman was able to speak with policy-makers within the government and State Department as well as the family members impacted by the imprisonment of their loved ones.
"I think it's important that people keep Otto (Warmbier) on their minds and in their daily discussions, which is exactly why we launched #WeWantWarmbier," said Sugarman. "I think it helps to send positive thoughts to those imprisoned abroad while demonstrating the outpouring of support that Americans have for our own."
Prior to their first meeting more than a year ago, DPRK Representatives stated they were fully aware of Sugarman's social media movement regarding Kenneth Bae. Despite Sugarman's appearances on various television news networks and interviews with press resulting in a groundswell of support for Bae, the emissaries are willing to discuss various matters of interest with Sugarman.
Sugarman World Enterprises is the parent company to SugarTime, Inc. The Agency and offers consulting services in the fields of: brand management, lobbying, marketing, public relations, social media, sponsorship/endorsement and business development. Sugarman World Enterprises was created following the expansion of David Sugarman's businesses to New York in 2013.
Contact
Sugarman World Enterprises
Dr. Maria Scott
954-821-4258
www.iamdavidsugarman.com
www.twitter.com/SugarmanSpeaks

Contact