Growing Up Jewish is Not Easy
A humorous retrospective novel of a cantor's son growing up in the turbulent mid-1960's.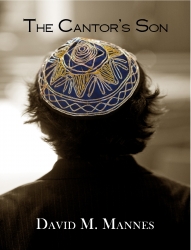 Farmington, MO, March 18, 2016 --(
PR.com
)-- "The Cantor's Son," new novel from Solstice Publishing.
As we've all learned in our life experience, growing up is never easy, and if you're a minister's child it's harder. Like a celebrity or politician your life is under the magnifying glass. The congregation and the community seem to have higher expectations. People forget that kids are kids. David M. Mannes' new novel, "The Cantor's Son" (Solstice Publishing) is about Rabbi-Cantor Jeff Reimer, who after an absence of forty-six years, returns to River City, Iowa as spiritual leader of Temple Beth Shalom. This was his father's first pulpit as Cantor and where Jeff had his Bar Mitzvah. As Jeff connects with the congregation and a variety of issues, he also connects with his past and reminisces about the year of his Bar Mitzvah, and the pivotal events and personal relationships that have led him back again, and that has made Jeff the man he has become. This is a humorous coming-of-age story set in the mid-sixties where Jeff fights off the stigma of being a clergyman's son, and has to contend with Junior High shop classes, B'nai Mitzvah party dances and a semi-reluctant romance with April Blackman.
"The Cantor's Son" is available for pre-order from Amazon on March 15, 2016.
The novel is scheduled to be released March 29th in ebook and paperback formats from Amazon, Barnes & Noble, and www.solsticepublishing.com (ebook version only).
David M. Mannes is a Cantor-Educator and a member of the American Conference of Cantors. He has served congregations in Canada and the United States for thirty years. He is also a former educational writer/ film producer/director. David is the author of several works of genre fiction: The Reptilian Encounter, Scarlet Justice (both published by Solstice Publishing) As well as, Creature Feature, and Nahanni among others. Cantor Mannes is married and lives in Edmonton, Alberta Canada.
David is available for interviews, book readings, speaking engagements, and Cantor-in-Residence requests.
Contact
David M. Mannes
780-907-3423
http://davidmannes.wix.com/david-mannes
Facebook: David M Mannes

Contact