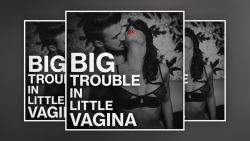 Las Vegas, NV, March 18, 2016 --(
PR.com
)-- Tired of Podcasts that dance around issues? Renegade Talk Radio has heard the cry and is proud to announce a brand new sex and relationship podcast which promises to get straight to the point. In the same vein as all Renegade Talk Radio shows, there's no filter and no holds barred. Tune in Fridays to hear "Big Trouble in Little Vagina" with Renegade's very own Naughty Nicole.
Renegade Talk Radio broadcasts live programming daily, offering edgy and provocative political, religious, sexual and alternative content designed for listeners who believe in the First Amendment and value free speech. Renegade Talk Radio is committed to freedom of speech and having conversations that no one else is having in talk radio today.
Renegade asks questions people are thinking about. And because Renegade is online, and free of the FCC it can cover subjects that fall outside of the Ostrich Media.
Renegade Talk Radio is more popular than ever. Over 3.1 Million listeners have tuned in for Talk Show programming over the past 5 years and the numbers are still growing.