ARCO/Murray Construction Makes Progress on Tampa General Hospital Brandon Medical Center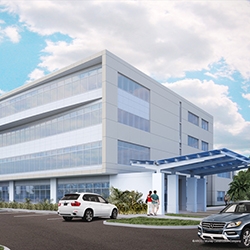 Tampa, FL, March 22, 2016 --(
PR.com
)-- ARCO / Murray Construction is well underway on construction of a new, four-story, 130,000 square foot medical center for Landmark Healthcare Facilities in Brandon, Florida. The building will contain many features, including a green roof, a serpentine-curved exterior wall, and a helicopter landing pad. Upon completion, the medical center will be occupied by Tampa General Hospital with space available for additional medical services.
The 70,000 square foot outpatient medical center buildout for Tampa General Hospital will accommodate a wide range of services. The buildout will feature a free-standing emergency department, an ambulatory surgery center with six operating rooms, and outpatient imaging with a MRI suite, two CT rooms, and a radiology room. The medical center will also provide services for physical therapy, primary care, specialty physician offices, and a pharmacy.
"This medical center will provide the community with more access to outpatient health care services," said Michael Hartzog, Vice President with ARCO/Murray Construction. "We are excited to help Landmark Healthcare Facilities and Tampa General Hospital bring these medical services closer to where people live."
About Landmark Healthcare Facilities
Landmark Healthcare Facilities LLC is a leading full-service developer of physician office buildings and clinics, ambulatory care and surgery centers, cardiac and cancer centers, imaging centers, fitness and women's centers and laboratories. For more information, visit www.landmarkleadership.com.
About ARCO/Murray Construction
ARCO / Murray Construction is a design/build general contractor specializing in office, industrial, and healthcare projects throughout the United States. For more information, contact ARCO / Murray Construction at 813-280-6320 or visit www.arcomurraycc.com.
Contact
Pinstripe Marketing
Ginger Reichl
727-214-1555
www.arcomurraycc.com

Contact