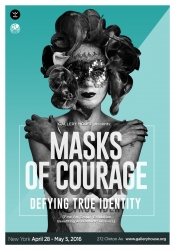 Brooklyn, NY, March 23, 2016 --(
PR.com
)-- Gallery House is proud to present, Masks of Courage: Defying True Identity, an exhibit that takes viewers through a journey separating the sense of self worth from external attributes of identity to confront the reality acid attack victims experience. Gallery House is a unique private gallery space located in Brooklyn, New York used to host fundraising fine art exhibitions at absolutely no cost. The only parties that financially benefit from the exhibitions are the artists and charitable organizations involved.
The show challenges the collection of attributes that defines how people see themselves, and how others perceive them. A persons face, body, language, relationships, what they wear, like and own, paints an image of who they are. What happens when those are taken away? Who are they then? In that spirit, Gallery House is delighted to work with artists who inquire and/or answer the question: "Who am I?" Selected art works will be donated and all profits will benefit the non-profit Natalia Ponce de León Foundation.
Original works will be donated or sold to benefit the Natalia Ponce de León Foundation, a Colombian organization that supports acid attack survivors and works to end acid violence.