Twin Cities-Based Home Products e-Retailer CopperSmith® Launches New Web Site with Custom Design Features
CopperSmith's new Web site offers an updated look, an expanded product line and and enhanced customization features for homeowners, designers and contractors seeking custom, upscale range hoods, kitchen and bathroom sinks, bathtubs, tabletops and more. Most of the online store's products are made from solid copper. All CopperSmith branded products are handmade from solid, heavy-gauge copper and other premium metals.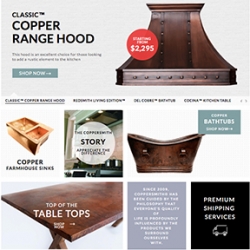 Minneapolis, MN, March 25, 2016 --(
PR.com
)-- Minnesota-based CopperSmith® has announced the launch of a new e-commerce Web site; which offers a new look, an expanded product line, and a much-improved shopping experience for customers at www.worldcoppersmith.com.
The site features customization options on all CopperSmith® branded products, with easy to use drop-down menus enabling customers to choose from a variety of colors (or "patinas"), textures and sizes. And with CopperSmith's free design services, customers can even design a product of their own simply by providing a rough concept.
Launched in 2009 by young entrepreneur Ryan Grambart, 31; CopperSmith has since emerged as a leading national Online retailer of upscale home products; including range hoods, kitchen sinks farmhouse sinks, bathroom sinks, tables, light fixtures, mirrors, towel bars and rings, cabinet knobs and pulls, tiles and registers, cookware and more.
In addition to 176 CopperSmith® branded products, the site also offers hundreds of products by Amoretti Brothers, Copper Factory, Copper Works, Golden Lighting, Sinology, Trade Wind, Vent-a-Hood and Zephyr.
CopperSmith® also has plans to introduce a line of kitchen appliances and outdoor grills to the Website's offerings later this year.
A full media kit including a backgrounder media release, fact sheets, bios, publishable photos and more is available on the CopperSmith press page at www.medialinecom.com/coppersmith.html. Or, call or e-mail Todd Messelt of Media Line Communications at (612) 222-8585 or tmesselt@medialinecom.com.
Contact
Media Line Communications
Todd Messelt
612-222-8585
medialinecom.com
4940 West 77th Street
Box 11
Edina, MN 55435

Contact
Multimedia
Media Kit containing backgrounder media release, fact sheet, bio, photo contact page, photo key, testimonials and copper design trend info