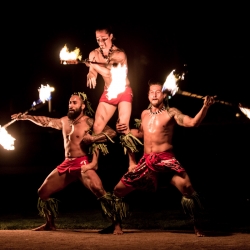 Antelope Valley, CA, March 29, 2016 --(
PR.com
)-- Jethawks Municipal Stadium & William J. Fox Airfield, Lancaster, CA
(March 18-20, 2016) – The Dancing Fire
The Dancing Fire performed their unique style of fire dancing to record crowds at the 3rd Annual Los Angeles County Air Show in Lancaster March 18th-20th. The high-octane event kicked off at the Lancaster Jethawks Municipal Stadium, and was packed full of thrilling aerobatics, stunts, and exciting entertainment from the thunderous pyrotechnics of Tora Tora Tora to the death-defying acts of the Third Strike Air-Walking Team. The Dancing Fire was honored to cap off the evenings festivities from 7:45pm–9:00pm with their one of a kind blend of Luau and Fire Dance entertainment. including fire dancers, drummers, fire breathers and hula dancers. The Dancing Fire added a special touch to the evening by distributing leis and encouraging attendees to don their own luau apparel and participate in the fun!
The Dancing Fire was also one of the featured performance groups throughout the weekend, as the LA County Airshow continued at William J. Fox Airfield. Dennis Dunbar, executive director of the Los Angeles County Air Show was pleased with the record number of spectators (137,000) over the weekend, according to the Antelope Valley Times Online. Attendees had the chance to take pictures with the dancers and take part in the exciting spirit of Aloha in the middle of the high desert of California, a once in a lifetime for many!
Brittany Chandler's Los Angeles based entertainment company, The Dancing Fire, is no stranger to performing at weekend long events and special occasions such as this. Their exciting and unique flavor of entertainment can add the right flair to any event. Their dedication, drive, and commitment to creating spectacular live performances has set The Dancing Fire apart as one of the premiere entertainment and dance companies in the United States, and their reputation is steadily growing globally.
For more info about The Dancing Fire, upcoming shows, and how to book them for your event please visit www.thedancingfire.com, follow them on Facebook at Facebook.com/thedancingfireentertainment, or following them on Twitter and Instagram @TheDancingFire.