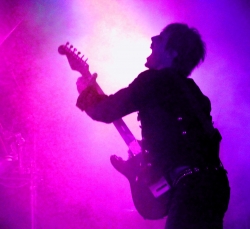 Chicago, IL, March 28, 2016 --(
PR.com
)-- After creating a huge buzz with his galvanizing performances down at SXSW, international electro dance rock artist Jupiter In Velvet will be joining the International Pop Overthrow Music Festival as it rolls into Detroit, Michigan on April 7th at PJ's Lager House. The IPO Musicfest is a traveling festival with stops all across the US, UK and Europe featuring the music of exciting new rock, pop and alternative artists.
Jupiter In Velvet, who emerged onto the world stage in 2012, is looked upon as one of rock's most exciting and innovative new artists. With a worldwide following and four albums to date, including his most recent effort, "The World Didn't Start With U," Jupiter In Velvet is a musical iconoclast whose attitude, outlook and innovative style draws diehard fans from diverse age groups and backgrounds. Currently Jupiter In Velvet's music is heard on radio stations across 6 continents and over 60 countries.
The music press while finding itself tongue-tied to categorize Jupiter In Velvet's music has spoken gloriously of his talent:
"One of the most thrilling and inspired pop-rock musical artists of the early 21st century scores himself yet another bull's eye with his terrific latest album" - Joe Wawryzniak of JerseyBeat.com July 2015
"The World Didn't Start With U is a tempestuous, impassioned ride through one brilliant musician's imagination and the experience is exhilarating" - Dale Butcher Indie Artist Alliance Sept. 2015
"In close, most famous artists out there have 'it,' I'm not so sure what that is but Jupiter In Velvet has whatever 'it' is." - Michael Morrison, EVOR Magazine, January 2013
"Jupiter In Velvet displays a masterful mix of all genres, but his voice and amazing songwriter's touch are the highlight of it all" - Michael Kula, GigBand, November 2, 2013
"I look at Jupiter In Velvet and I see a modern day version of David Bowie or even Paul McCartney" - Loren Sperry - GasHouse Radio.com Oct. 23, 2013
Jupiter In Velvet will also be a featured performer at the International Pop Overthrow Festival series when it stops in Chicago on April 23rd at the Red Line Tap. Jupiter In Velvet will be releasing his 5th studio album in August, tentatively entitled, "Rule Your Day." The first single from the album is scheduled for release on May 6th.