National Institute for Fitness and Sport Brings Fit3D ProScanner to Members and Guests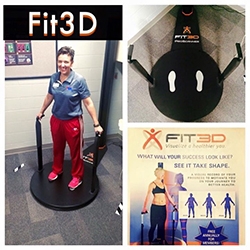 Indianapolis, IN, March 31, 2016 --(
PR.com
)-- The National Institute for Fitness and Sport (NIFS) is pleased to bring the Fit3D ProScanner body-scanning technology to fitness center members and guests.
The Fit3D ProScanner is an innovative technology that captures a 360°, 3D image of the human body, extracting the most commonly used measurements tracked for fitness progress. The Fit3D WebPlatform securely stores this data, allowing users to track their fitness progress by comparing scans and data.
"The Fit3D scanner is an exciting new addition to our fitness assessments—it is easy to use and provides almost instant feedback," says Melanie Roberts, Fitness Center Director. "At NIFS, we love that our members are so passionate about their health and fitness, and we want to provide them with the equipment and knowledge that makes the greatest impact."
A scan takes only about 40 seconds and provides over 200 body measurements, including waist circumference and waist-to-hip ratio measurements. These measurements have long been used to understand an individual's overall health status. Repeated scanning allows an individual to chart and view his or her progress over time and visually compare scans side by side. Scans are private but can be shared with coaches if the individual chooses to invite a coach into the account.
Members at NIFS will receive a Fit3D scan free annually with membership. Non-members and guests to the fitness center can purchase a scan for $45.
About FIT3D
Fit3D is the leader in 3D body-scanning technology for the fitness industry. The Fit3D ProScanner is body-scanning technology that allows people to evaluate their body shape and fitness progress over time in three-dimensional form. Fit3D's mission is to drive passion into people's nutrition and workout plans and to keep them engaged in fitness by showing them the honest results of their hard work, which is unachievable with traditional assessment tools.
About NIFS
The National Institute for Fitness and Sport is dedicated to enhancing human health, physical fitness and athletic performance through research, education and service for people of all ages and abilities. The NIFS mission is carried out through a variety of departments, including Athletic Performance, Corporate Fitness Management, Educational Services, our Fitness Center and Youth Development.
To find out more about NIFS, contact, Trudy Coler: (317) 274-3432; email tcoler@nifs.org.
National Institute for Fitness and Sport is a nonprofit organization.
Contact
National Institute for Fitness and Sport
Trudy Coler
(317) 274-3432
www.nifs.org
250 University Blvd
Indianapolis, IN 46202

Contact