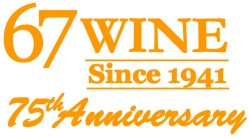 New York, NY, March 31, 2016 --(
PR.com
)-- 67 Wine, known as one of the city's best wine stores, will be holding a Grand Tasting on April 14, 2016, at 7PM, to celebrate its 75th Anniversary. A leading wine destination since 1941, 67 Wine & Spirits has been owned and operated by the Weiser family for its entire history.
The store will be featuring more than 20 of its suppliers who will be pouring over 80 wines. The goal is to highlight the large selection and diverse nature of the store's offerings, in terms of country, region, grape variety, style, and price.
The 67 Wine staff is known for its enthusiastic expertise and their deep knowledge of the store's wines, and will be on hand to guide customers and answer questions.
The tasting is free, but space is limited. In order to manage the event, tickets will be available for $25. The $25 will be refunded to ticket holders as a gift card, available the night of the event only. The gift card will not have an expiration, so it can be used at any time. For tickets, customers can visit www.67wine.com.
Located at 179 Columbus Avenue, New York, 67 Wine delivers free throughout Manhattan (small charge for orders under $100) and throughout NY State (charge for orders under $200). For more information on selection of wines and spirits, recommendations, gift ideas, recipes and wine pairings from the staff, or to order online, visit www.67wine.com; 212-724-6767.