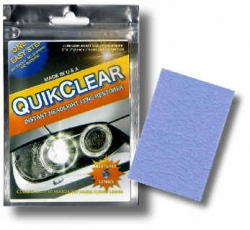 Huntington Beach, CA, April 04, 2016 --(
PR.com
)-- QuikClear today announced nationwide release of QuikClear, an inexpensive and effective headlight lens restoration product, targeted for the DIY consumer market.
"Consumers have been searching for an easier way to increase the clarity of their headlight lenses, without the use of expensive tools and rubbing compounds," said Ted Deits, President of QuikClear. "Through two years of product development, we have created an inexpensive, simple method for the restoration of plastic headlight lenses."
Performance and Ease of Use
From Fords to Ferraris, consumers are all searching for an easier quicker way to restore their headlight lenses to original clarity for both appearance and increased safety. "QuikClear features a single use, self contained pouch, that will instantly restore plastic headlight lenses to 80% of their original factory clarity, without the use of tools or any abrasive sanding."
QuikClear Fast N' Easy
QuikClear is designed for the average consumer to simply open the pouch, wipe their lenses and go. Increased lens clarity and safety is instantly achieved no matter the skill level of the consumer. Each pouch will clear six headlight lenses.
Pricing and Availability
Quikclear is targeted at the sub $5 automotive market, with complimentary pre production sample pouches available to qualified companies by visiting: www.quikclear.com/beta_test.html.
About QuikClear
QuikClear produces high quality, affordable automotive aftermarket products built with the premise of ease of use.