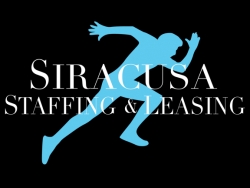 Clearwater, FL, April 04, 2016 --(
PR.com
)-- After an amazing run with Employee Leasing Strategies for over 6 years, owner David Siracusa decided it was time to start a second company and build on that success. Siracusa, who is still an owner of ELS, said: "I had an amazing opportunity put in front of me to start a new company, Siracusa Staffing & Leasing, LLC, with my family, and I had to jump on that opportunity!"
Siracusa started the new company with his two sisters-in-law along with the Spanish division that he created at ELS. Already, he has begun adding to his existing sales force by picking up three sales representatives, three lead generators, and support staff. Siracusa plans to quickly hire a significant amount of additional employees in each of these categories during the next two to three years.
Siracusa sees a void in the world of employee leasing right now that he intends to fill. "There currently is not a single employee leasing broker in the market that dominates with the type of name recognition of a Walmart or a Publix. I intend to change that! I want our company to be the only name that people think of when they think of workers' comp in the employee leasing field."
Siracusa Staffing & Leasing is pioneering the industry with improved paperwork systems, utilizing fillable forms and e-signatures, in order to make obtaining Workers' Comp and payroll services easy for their clients. They created an app that will be released to clients in the next month. SS&L works primarily with Property and Casualty agents and utilizes an outstanding online system, called I-Linked, that was created specifically for the industry to allow agents unparalleled access to the clients they serve. And SS&L promises to not stop innovating: "Our innovation and willingness to keep redefining is what sets Siracusa Staffing & Leasing apart from every other broker out there!"
Siracusa Staffing & Leasing, LLC is a PEO and Staffing brokerage firm that focuses on hard-to-place blue to grey collar companies. They provide Workers' Compensation, payroll and staffing services.
David Siracusa, owner of Siracusa Staffing & Leasing, LLC, can be reached at 844-377-2635, Ext 801. Additionally, SS&L encourages community members and insurance agents to stop by their offices at any time in order to meet the team. Their physical offices are located at 1944 N Hercules Ave Suite A, Clearwater, FL 33763.