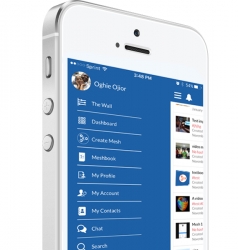 Atlanta, GA, April 15, 2016 --(
PR.com
)-- ZoomWit Corporation a technology startup based in Duluth, Georgia, has launched an app called ZoomWit for the iPhone. ZoomWit is an online mobile video co-creating, video sharing and social networking service that enables you, your friends and complete strangers to easily turn your videos, photos and music/audio content into a single co-created video. The co-created video is called a mesh.
The mesh is created by recording videos, taking photos, recording audio clips or selecting music from iTunes, selecting photos and video clips from camera roll, albums or by importing other videos from ZoomWit. ZoomWit lets you also co-create meshes by importing your videos and photos from social apps like Facebook, Instagram and Vine.
Users can share their created meshes simply on ZoomWit, or via social channels like Facebook, Twitter, LinkedIn, Google+, WeChat, Skype, WhatsApp and Pinterest etc. You can also share your mesh via email, SMS, URL link or embed.
ZoomWit enable you easily experience events and occasions fully through the eyes of others. It's free, fun and easy to use. ZoomWit has a companion web application for non-iPhone users at http://www.zoomwit.com.
ZoomWit Key features:
· Co-create videos from videos, photos and music/audio content
· Share videos within the ZoomWit, via email & text and social app channels
· Explore interesting content and people, connect and chat with friends
· Manage your profile, contacts, friends and groups
· Like, dislike and post comments
Pricing and Availability
ZoomWit is available on the App Store for Free. ZoomWit is currently designed for the iPhone. ZoomWit requires OS 7.0 or newer.
App Store Link: https://itunes.apple.com/us/app/zoomwit/id975096527?ls=1&mt=8
About ZoomWit Corporation
ZoomWit is a technology startup company headquartered in Duluth, GA in the United States. Founded in late 2015 by Oghie Ojior. ZoomWit's mission is to give people the power to experience moments and memories from the perspectives of others.
Our tagline is "Never miss another fun moment!"
Press Contact
ZoomWit Corporation, 10672 Ocean Bay Dr. Duluth, GA 30097
Mobile: 347-405-4578
Email: oghie.ojior@zoomwit.com
Twitter: @oghieojior
Website: http://www.zoomwit.com