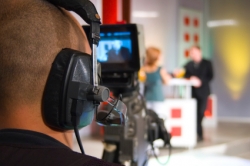 Rocklin, CA, January 08, 2008 --(
PR.com
)-- ATV Video Technologies in Rocklin, CA announces completion of its first full service video production studio.
To meet the increasing needs for professional videos, ATV's has expands its capacity by building out fully equipped production studio. The new studio will meet the needs of its commercial clients for producing professional videos for training, promotions, events, documentaries and commercials. The studio is equipped with the latest equipment including HD cameras, chromo-key set, and audio and lighting systems. The production studio further extends ATV's 6500 sq ft video production facility which currently is comprised of two fully equipped non-linear edit bays, sound booth and duplication systems.
Bill Murphy, President of ATV said: "We are excited that we can now offer Sacramento client a studio location to film their videos. Studio "A", the smaller of two planned studios, is perfect for small scale videos such as corporate presentations, product launches and event opening videos. This summer, we plan on develop studio "B" which will be substantially larger and can accommodate more complex projects."
For additional information on ATV's production studio, contact Bill Murphy or visit www.ATVvideo.com.
About ATV Video – ATV Video, headquartered in Rocklin, Calif., is a leading audio and video communication solutions provider specializing in audio visual system integration, video production, event management and staging, equipment sales, and multimedia creation and duplication.
###