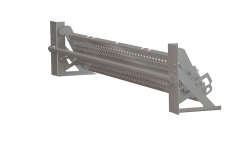 Oceanside, CA, April 19, 2016 --(
PR.com
)-- Bio Clean Environmental, Inc. has recently launched a trash control technology called the
Watergate ARS
. The Watergate is an automatic retractable screen that can be placed along the opening of a curb inlet catch basin. The Watergate blocks large trash and debris from entering storm drains during dry weather flows and light to moderate rain.
The Watergate features several advantages over other stormwater automatic retractable screens. Its patented front-pivot design gives the Watergate a natural positive closing force. This design is superior to springs, magnets and counter weights found in traditional curb inlet screens. The simplicity of the design cuts down on design and maintenance costs.
The Watergate achieves high standards in its stormwater performance. It affectively remains closed and locked during normal stormwater runoff and light rain. If stormwater flows exceed two inches, the device will unlock and open. This will allow large flows into the storm drain and prevent flooding.
The Watergate meets recognized stormwater regulations for trash capture. The product features Type 304 Stainless Steel parts and has a built-in 0.75 inch diameter stainless steel child protection bar. The screen uses the industry standard 0.75 inch holes for water flow. The Watergate ARS is currently patented.
Greg Kent, CEO/President of Bio Clean adds, "We are very excited to add the Watergate to our portfolio of products. It is by far the most effective and functional ARS (automatic retractable screen) in the stormwater industry."
About Bio Clean Environmental Services, Inc.
Bio Clean offers 16 different stormwater treatment and management systems - More than anyone else in the industry. Our product line includes catch basin filters, media filters, specialty filters (including the downspout filter), various filtration media, hydrodynamic separators, screening devices, underground detention systems, and various biological filtration systems. Since 1999, Bio Clean has been assisting municipalities, engineers, developers, and contractors to comply with the constantly changing stormwater regulations.