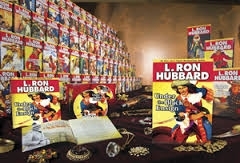 Hollywood, CA, April 22, 2016 --(
PR.com
)-- Galaxy Press has set a world record by completing the republication of 153 stories from a single author in the form of 80 books and audiobooks over a 6 ½ year period it was announced by Galaxy Press President, John Goodwin. "We set about to create a renaissance of pulp fiction with stories written by one of the most beloved writers of America's golden age of popular fiction, L. Ron Hubbard," stated Goodwin. "And we did it!"
Galaxy Press republished stories from Hubbard in the several popular genres he wrote in so as to bring back one of America's favorite forms of popular entertainment—pulp fiction. "And the success of the republishing program wasn't only with the over 2.3 million copies of the books and audiobooks we sold," Goodwin noted, "it was also the fact of the international acceptance of these titles." Countries carrying the Stories from the Golden Age range from Middle Eastern countries such as UAE, Syria, Qatar and Oman, to Malaysia and China, throughout the UK, Australia and New Zealand, and into Africa with Morocco, Sudan and Egypt as well as throughout North and South America, over 40 countries in all.
And it was while these stories were being republished that Publishers Weekly proclaimed, "Hubbard's stunning writing ability and creative imagination set him apart as one of the greatest literary figures of the 20th century."
Like other great pulp writers that included names such as Edgar Rice Burroughs, Raymond Chandler, Agatha Christie and Dashiell Hammett, Hubbard rapidly became a mainstay of popular fiction in the 20th century. However, he was unlike most authors of the day, as his stories covered a wide spectrum of genres, including adventure, western, mystery, detective, fantasy, science fiction and even some romance, using his own and 15 pen names.
For more information about the author L. Ron Hubbard or the Stories from the Golden Age, go to
www.galaxypress.com
.