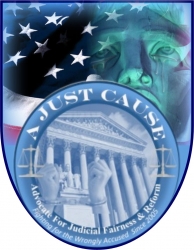 Denver, CO, April 21, 2016 --(
PR.com
)-- Advocacy group, A Just Cause, announces this Thursday's, April 21, 2016 segment of AJC Radio's, "Spotlight on Capitol Hill" will shine the spotlight on United States Representative Pedro Pierluisi of Puerto Rico (www.AJCRadio.com, 8-10 PM ET).
"The AJC Radio family continues to grow because America wants to know what our Members of Congress in Washington are accomplishing for the citizens of this country," says Lamont Banks, Executive Director of A Just Cause. "Members on Capitol Hill are excited for the opportunity, and gracious enough to share with America their achievements, their goals, and to discuss the issues closest to their hearts," adds Banks.
"The 'middle class' and poor of our society continually absorb the impact of this country's injustices, and suffer the greatest burdens and loss. Representative Pierluisi is all too familiar with this fact having represented the U.S. territory of Puerto Rico since 2009. In this regard, Representative Pierluisi takes a strong stand, and holds true to ideals to better serve the people of Puerto Rico," suggests Banks.
Representative Pierluisi is optimistic, yet realistic about the future of our country and has a genuine heart for the people of Puerto Rico. He's a successful attorney who began his career in Washington after graduating from Tulane University and The George Washington University Law School. He has four children and is married to Maria Elena Carrión.
"It was a pleasure to have the exclusive interview with Representative Pedro Pierluisi. He is concerned about the problems impacting the American people regarding the economy, healthcare, and education," says Lisa Stewart of A Just Cause. "He's unafraid to address the flagrant bias' that hinder citizens of our society, and this weeks spotlight on Representative Pierluisi is sure to grab our listener's attention," adds Stewart.
According to his official website, "Pedro R. Pierluisi has been Puerto Rico's sole Member of Congress, known as the Resident Commissioner, since January 2009. He represents 3.5 million U.S. citizens, the most of any member of the U.S. House of Representatives… In the current 114th Congress (2015-2016), Congressman Pierluisi is a member of two committees. He serves on the House Judiciary Committee, and is a member of the Subcommittee on Crime, Terrorism, Homeland Security, and Investigations, and the Subcommittee on Immigration and Border Security. He also serves on the House Natural Resources Committee, and is a member of the Subcommittee on Indian, Insular and Alaska Native Affairs, and the Subcommittee on Federal Lands… In previous years, Congressman Pierluisi also served on the House Ethics Committee and the House Committee on Education and the Workforce." (http://pierluisi.house.gov/about/biography)
"We've interviewed several notable representatives that stir things up in Washington D.C., and Representative Pierluisi is definitely among those who will speak to the issues that concern the American people. We invite everyone to listen tonight to the exclusive interview with Representative Pierluisi on AJC Radio," concludes Stewart.
"AJC Radio hosts had the privilege of having exclusive interviews with both Democrats and Republicans alike, in the House and in the Senate, to include: Congressman Charles Rangel (D - NY), Congressman John Conyers, Jr., (D – MI), Congressman James Sensenbrenner (R – WI), Senator Mike Lee (R - UT), Congressman Henry C. "Hank" Johnson Jr. (D – GA), Congressman Tom Marino (R – PA), Senator Chuck Grassley (R – IA), Congresswoman Barbara Lee (D – CA), Congressman G.K. Butterfield (D – NC), Congressman Hakeem Jeffries (D – IL), Senator Dick Durbin (D – IL), Congressman Blake Farenthold (R – TX), and Congressman Danny Davis (D – IL). We've also featured other members of Congress such as Congresswoman Sheila Jackson-Lee (D - TX), Congresswoman Nancy Pelosi (D – CA), Senator Orrin Hatch (R – UT), Senator Patrick Leahy (D - VT), Senator Charles Schumer (D - NY), and Congressman Cedric Richmond (D - LA)," concludes Banks.
For more info on AJC Radio programming -- including program archives - visit www.AJCRadio.com. Follow the channel on Twitter @AJCRadio. AJC Radio, "Spotlight on Capitol Hill" segments air Thursdays, 8-10 PM ET.
About AJC Radio
AJC Radio is an Internet radio presentation produced by the advocacy group, A Just Cause (www.a-justcause.com). The programming is designed to bring a variety of discussions relating to the challenges that face America, as well as address the positive things our Congressmen and Congresswomen do everyday to help the American people.
Related press releases: http://www.a-justcause.com/#!2015-press-releases/cl69
A Just Cause
(855) 529-4252