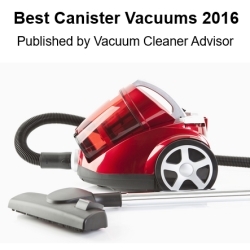 Seattle, WA, April 28, 2016 --(
PR.com
)-- Finding the best canister vacuum cleaner today is a tough job. There are hundreds on the market and each manufacturer tells you their machine is the best. The truth, however, is that many of them just aren't up to the task. To help consumers make the right choice, Vacuum Cleaner Advisor has published its 8th annual Best Canister Vacuum list.
Manufacturers who made the cut this year include Miele, Bissell, Hoover, Dyson, SEBO, Electrolux, and Eureka. Ten vacuums make up the 2016 list and prices range from about $50 to almost $1000. The machines were chosen based on several key factors including cleaning performance, cost, owner ratings, features and warranty.
Once again Miele dominate the list and the top canister vacuum for 2016 is the Miele Alize. This machine excels at cleaning hardwood floors, tile, vinyl and area rugs. Consumer ratings are extremely good and most owners praise the unit's cleaning performance and features. The Alize has sealed system construction, HEPA-level filtration, variable suction, a stainless steel wand, an LED headlight, and a lengthy 7-year warranty on the motor & casing. It is also lightweight and whisper quiet. Miele estimates that the vacuum will last for about 20 years of residential use. The Alize isn't cheap however and it will set you back about $650. Other Miele vacuums found in the list include the Miele Cat & Dog, the Miele Capri and the Miele Olympus.
At a surprising second place is the relatively new Electrolux UltraFlex EL4335A. This canister vacuum comes with both bare floor and carpet nozzles, has a washable HEPA filter, and adjustable suction. Another interesting feature is the self-cleaning brushroll which takes the drudgery out of cutting away and pulling out hair and string. The UltraFlex carries a respectably long 5-year warranty.
The remaining vacuums in order include the SEBO Airbelt D4, the Bissell Zing 4122, The Hoover Portapower, the Eureka AirExcel 990A, and the Dyson DC39 Animal. The SEBO is the priciest of the lot but this vacuum is built in Germany and garners exceptional consumer ratings. It is also capable on all manner of flooring and has an exceptionally long cleaning reach of 52 feet. The least expensive vacuum in the list is the Bissell Zing 4122. The Bissell is a very simple machine but it has good suction, is lightweight, and delivers great bang for your buck. It is best for smaller homes with mostly bare floors.
Visit vacuum-cleaner-advisor.com to see the complete
2016 Best Canister Vacuum List
which includes reviews, costs and details for each machine. Vacuum Cleaner Advisor has been providing expert vacuum cleaner reviews and ratings for all the top brands since 2007.