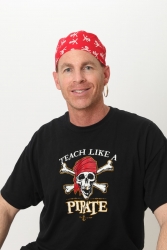 Walnut Creek, CA, May 03, 2016 --(
PR.com
)-- CUE is thrilled to announce that Dave Burgess will bring his innovative "Teach Like a PIRATE" presentation to the CUE 2016 Fall Conference, October 28-29 at American Canyon High School in Napa Valley.
Dave Burgess will deliver the opening keynote on Friday, October 28 at 8:30 a.m. Burgess is the New York Times best-selling author of Teach Like a PIRATE and co-author of P Is for PIRATE: Inspirational ABC's for Educators. He specializes in teaching hard-to-reach, hard-to-motivate students with techniques that incorporate showmanship and creativity. His message is dynamic and inspirational and has transformed classrooms and sparked an educational revolution.
Burgess received national recognition as the recipient of the 2014 BAMMY award for Secondary School Teacher of the Year presented by the Academy of Education Arts and Sciences. He has also received honors in his own district in San Diego, California where he was recognized as Teacher of the Year, a Golden Apple recipient, and a faculty standout for 17 consecutive years in categories such as Most Entertaining, Most Energetic, and Most Dramatic.
Burgess's keynote address will combine both magic and humor to illustrate how each educator can make school an amazing place that has students wanting to learn. The presentation is a one-of-a-kind experience of unbelievable intensity and outrageous energy.
The CUE 2016 Fall Conference sells out quickly. To find out more, visit
http://cue.org/fall
Registration opens shortly.
About CUE
Ed Tech Professional Development is at the core of CUE's work. We are passionate believers in advancing student achievement through technology. By providing Ed Tech professional development to schools, districts, and local educators on the infusion of emerging technologies, we can help better prepare students for college and careers ahead. |
www.cue.org