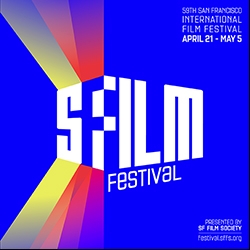 San Francisco, CA, May 05, 2016 --(
PR.com
)-- MUSEbrands (
http://musebrands.com
) teamed up for its second consecutive year with San Francisco Film Society, this time to create the brand identity for the 59th San Francisco International Film Festival. After an acclaimed season with the iconic stylized eye designed for the past edition, the SF agency was commissioned to develop the strategy, design and implementation for 2016. The inspiration was the society's role within the international film community – establishing itself as a bridge between filmmakers and the audience.
Through its continuing work during the last 50 years the San Francisco Film Society plays a decisive role providing assistance and opportunities designed to foster creativity and further the careers of independent filmmakers nationwide, and oversees one of the largest film grant programs in the country.
Inspired by these concepts MUSEbrands designed the new identity with a logo that evokes the edge between filmmakers and the audiences. Between creativity and innovation. With its tridimensional aspect the logo conveys a fresh new look into the future, representing not only what's projected into the main screen but revealing also what's behind it – a new angle, new perspectives.
"The bold and declarative look and feel of the San Francisco International Film Festival's new wordmark perfectly matches our ambitions in this marketplace and the national scene," said San Francisco Film Society Executive Director Noah Cowan. "MUSEbrands have been outstanding creative collaborators and bold, innovative thinkers around our new direction. We are deeply grateful for their exceptional work."
"We remember as kids how curious we were to understand what's behind the big screen. By walking behind it, the discovery was to see the same mirrored image projected on the back as well. That started our curiosity to find out how the movies were made and the whole magic behind the filmmaking process. We thought the SF Film Society plays the same role in helping to project and create the film experience," explained Patricia Ebner and Rai Favacho, co-founders and Executive Creative Directors at MUSE.
The 59th San Francisco International Film Festival is taking place in various locations throughout San Francisco until closing night May 5th. More information about the festival is available at
http://www.sffs.org/sfiff59
Agency: MUSEbrands
Executive Creative Directors – Patricia Ebner, Rai Favacho
Designer – Victoria Felix
CEO – Jefferson Coombs
Project Manager – Melissa Aiello
Client: San Francisco Film Society